The Jeep Wrangler EV Is Going To Be Faster Than Any Wrangler Before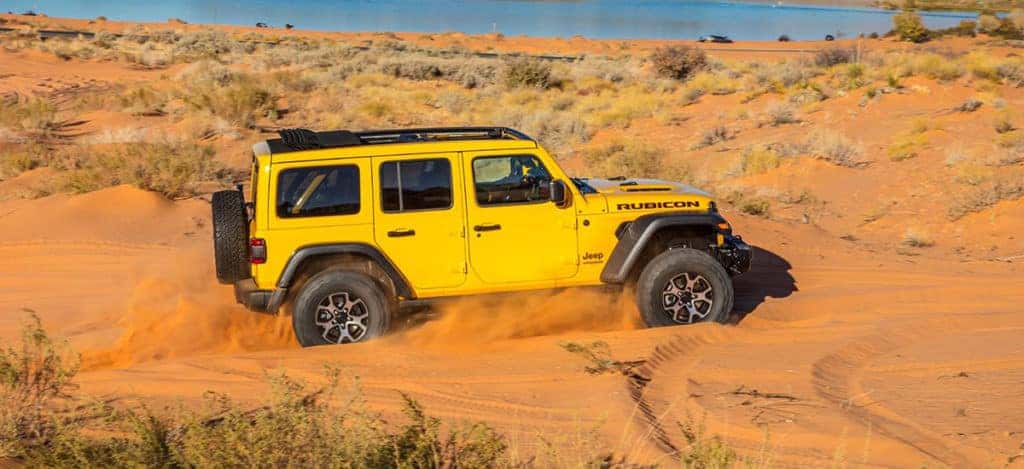 Photo Credit: Jeep
Jeep has been working on an impressive lineup that will include electric vehicle trims offered for each vehicle. The first vehicle to receive the EV treatment is slated to be the famed Wrangler. The turnout for its upcoming Wrangler EV should be enormous. Adding the latest technology that turns these Jeep vehicles into electric vehicles is certainly new, but it won't slow down how remarkable Jeep can be for drivers. The engineering team has come up with aspects that will surprise and delight buyers, starting with its production that will arrive for the 2021 model year. For a complete guide to the 2021 Jeep vehicle lineup, we have our readers covered.
New Jeep EVs Are Faster?
Jeep brings an impressive 0-60 mph time. Time at exactly 6 seconds to hit 60 mph, which is faster than the time the combustion Wrangler models offer. The Jeep Wrangler is known for its ability to provide drivers with easy off-road travel, but this is an interesting fact to know it is even faster as an EV. The crafting of every new Jeep vehicle encompasses that off-road experience is unparalleled and available to all owners. Jeep doesn't want to sell vehicles that can't keep the promise of off-road travel, and luckily they never will. These new EV vehicles will only differ from its engine, but it's completely a Jeep vehicle that offers better mileage than the combined 17 mpg offered in the 2020 Jeep Wrangler. We still don't know the exact gas mileage expected, but we know it will be improved upon. The first Jeep Wrangler that will offer some electric capabilities will be next year's Wrangler 4xe that will come out for the 2021 model year later this fall. The Wrangler 4xe will offer 31 miles of all-electric driving. This should be surpassed when the all-electric Wrangler comes out.
Forward Thinking Starts At the Helm of the Jeep Brand
Jeep has as many as four electric vehicles planned to be released in the next two years. For the first electric Jeep vehicle to come out the gate, this one will be quite the prize. A statement echoed by Christian Meunier, Head of the Jeep brand, offers some insight into the hope Jeep has for its buyers, calling Jeep "the world's most sustainable SUV company". He sees the future of the Jeep brand as having "the opportunity to improve the capabilities of our trucks and SUVs and make it even more exciting off-road and on-road." Before any shopper considers a Jeep vehicle, we welcome our readers to come to us out in Kendall.
2020 Jeep Vehicles Are Ready and Here For You
The place to go for new Jeep vehicles is with us, just look through our new Jeep vehicle inventory. We're more than able to assist our customers for any buying, leasing, selling or needs they may have. We can also help buyers trade-in their current vehicle. Our knowledgeable sales team shows off all our new vehicles and high-quality pre-owned vehicles with pride. 
Not sure if your current vehicle is running well or needs some work? We're here! We are able to make sure you're back on the road fast with our experienced service staff. Make an online service appointment and we can help you with your vehicle problems. We look forward to being your center for all things automotive. Check with us today at Kendall Dodge Chrysler Jeep Ram.