The Three Fastest Dodge Vehicles of All Time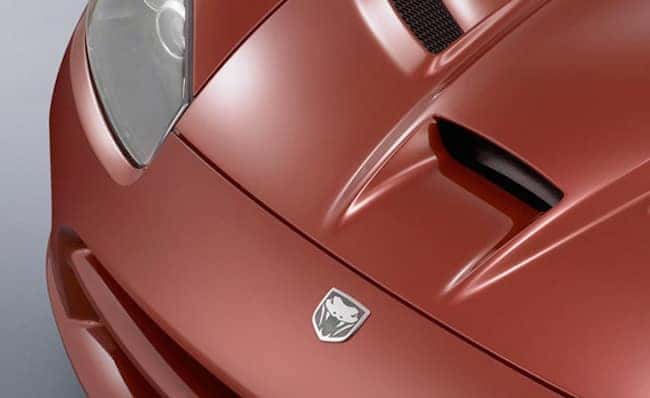 Not everyone expects performance from their Dodge, but there is certainly a market for those seeking a fast vehicle from the American brand. Luckily, the company has released a number of impressive, speedy vehicles, although there's a good chance they're out of your price range.
Before you head out to a Dodge dealer in Miami, take a look at some of the fastest (and impressive) cars ever produced by the brand. If they happen to fall within your budget, we may just convince you of which car you should be opting for…
SRT Viper TA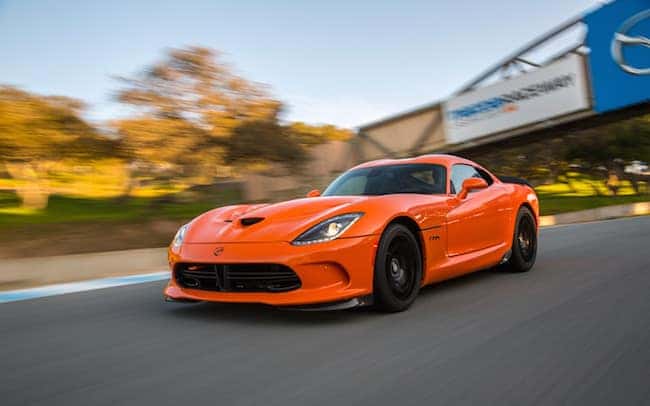 The 'TA' in the vehicle's name stands for 'Time Attack,' and we'd say that name is very well-deserved.
Not including any modified or racing versions, the SRT Viper TA isn't only the fastest model in the nameplate's history, but it's also the fastest Dodge vehicle ever. That could explain why Car and Driver referred to the TA as "the automotive equivalent of a circus tiger," as CheatSheet.com passed along. The Viper TA's are rare, and they're essentially engineered to entertain (in case you were confused by the analogy).
The vehicle's 0 to 60mph time clocked in a 3.2 seconds, which is considerably quicker (more than a full tenth of a second) than the trailing SRT Viper and SRT Viper GTS. Of course, that speed can be attributed to a number of factors, all strategically added to the car by the brand's engineers.
There's the 8.4-liter V10 engine that's capable of pumping out 640 horsepower and 600 ft-lbs of torque, and that abundance of power certainly plays a role in the Viper TA's incredible speed. The SRT Launch Control allows drivers to "conveniently execute consistent and repeatable acceleration times," meaning that 3.2-second 0-to-60 time can be accomplished with little effort. The vehicle also sits on top of four Pirelli P Zero tires, the perfect choice for such a fast racer. Drivers can be assured that their vehicle will deliver competent handling, especially since the lighter chassis improves the vehicle's "torsional rigidity."
"The new 2014 SRT Viper TA is engineered for the serious performance enthusiast who needs a car that can be driven daily yet has mind-boggling limits on a road course that would rival many track-only cars," explained Ralph Gilles, the President and CEO of SRT Brand, Chrysler Group LLC. "As one of the best handling and fastest supercars available on the market today, the TA enables our customers to take their passion for high performance driving to the next level. The SRT engineering team set out to create a world-class supercar that has few competitors on the track or the road at any price."
Meanwhile, the vehicle's resemblance to the rival Chevrolet Corvette has been an important topic of debate for the company.
"We've never tried to be Corvette," said SRT CEO Ralph Gilles (to Sam McEachern of GMAuthority.com) "We never will be. We're handmade. It takes 18 hours to paint the stripe on a Viper. We color sand the entire car, inside and outside. All the panels are beautifully finished. We're trying to build a custom show car that you can own. This is not a disposable device here."
The vehicle cost a cool $116,000, and only a limited number of have been produced.
Challenger Hellcat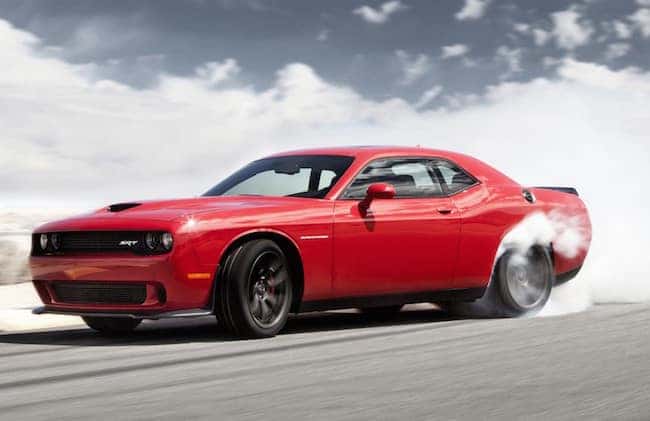 While the SRT Viper and SRT Viper GTS have both recorded faster times, the Hellcat earns a spot on this list for, well, not being a Viper. That's not an attempt to devalue the Hellcat's abilities, as the car is still quite the impressive ride.
The Challenger Hellcat is generally regarded as the fastest muscle car of all time, recording a top speed of 199 miles per hour and a 0-60 mile per hour acceleration time of 3.5 seconds. As CheatSheet.com notes, these specs often accompany a supercar like, say, the Viper. You certainly don't come across those types of numbers in muscle cars, as the second-fastest type of vehicle (the 2015 Mercedes-Benz E63 AMG S-Model 4MATIC) doesn't come close to matching those speeds.
Customers can also anticipate a boatload of power, as the 6.2-liter supercharged HEMI V8 Hellcat engine can deliver an incredible 707 horsepower and 650 ft-lbs of torque. Of course, we can't attribute these specs to just the engine, as the manufacturers cleverly included a number of features to help boost the power and speed.
"The driver's side parking lamp was deleted to enable an Air Catcher cold-air intake, helping the supercharged 6.2-liter HEMI deliver 'class-by-itself' horsepower and torque," Mark Trostle, the Heat of Design for SRT, explained. The twin-screw, high-efficiency supercharger, unique engine block, specially designed aluminum cylinder heads, hot-forged pistons and connecting rods, and a unique forged crankshaft.
It's not only the speed that sets the Hellcat apart from the competition. The suspension has been improved via gas-charged adjustable shock absorbers (which help increase rebound and compression rates) and the traction has been revamped with for each of the three driving modes (track, sport, street).
Consumers have clearly been impressed by Dodge's muscle car, as the company had to double production on the 2016 model to keep up with demand.
"We could not have asked for a more enthusiastic response to the Charger and Challenger SRT Hellcats – it was absolutely unprecedented, but then again, these 707-horsepower muscle cars are unprecedented," said Tim Kuniskis, the President and CEO of Dodge and SRT brands with FCA US.
The Hellcat is considerably more affordable than the Vipers, with the price starting around $62,495.
Challenger 392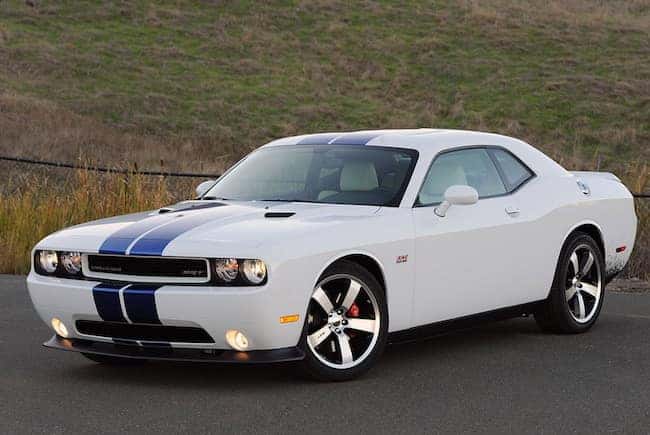 Vipers continued to flood the list, with the ACR, SRT 10, GT2 and RT/10 coming in before another non-Viper. The Challenger 392 is without a doubt the most impressive vehicle in the nameplate's history, and the incredible power and speed specs certainly contribute to that sentiment.
The new 392s can hit a top speed of 178 miles per hour, and the car can accelerate from 0 to 60 miles per hour in only 4.2 seconds. Furthermore, the 6.4-liter HEMI engine pumps out 485 horsepower and 475 ft-lbs of torque. If you opt for this car, you'll certainly intimidate all of your fellow drivers.
The "Scat Pack" as its affectionately called has been much anticipated by the company and fans for some time.
"After selling out last year's Shaker model production in just four days, our hardcore Challenger customers demanded we bring back the Shaker – plus offer more power and more performance," said Kuniskis regarding the 2015 model. "We listened, and for 2015, the new Dodge Challenger lineup offers the legendary Shaker hood expanded to include our 485 horsepower HEMI V8 delivering up to 113 more horsepower than last year, plus even more track-proven hardware and technology – a combination our enthusiasts have been waiting for."
With a $45,995 price tag, you certainly wouldn't expect this kind of power and speed from a vehicle.
As we mentioned earlier, it's unlikely that you'll find any of these vehicles lying around a Dodge dealership. Still. we can certainly appreciate the capabilities of these impressive cars, and if you're young, maybe you can aspire to someday own one of Dodge's racers.