Three Reasons Why the 2016 Grand Caravan is so Versatile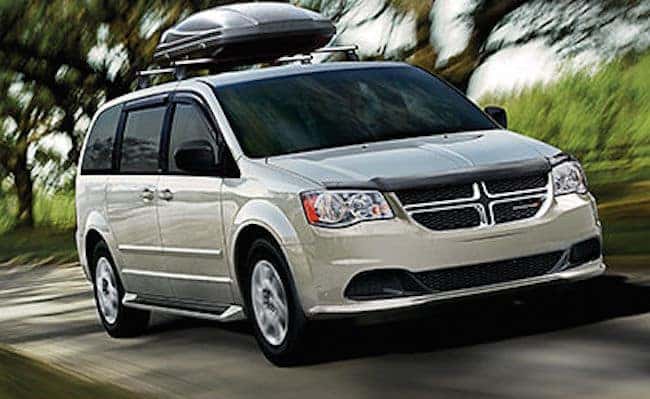 When you think of a minivan, the word "versatile" doesn't necessarily come to mind. The 2016 Grand Caravan will do it's best to buck that trend, as the vehicle offers plenty of opportunities for the driver and passengers to personalize their ride.
Whether it's the abundance of cargo space, the innovative technology, or the impressive power specs, the newest Grand Caravan isn't only one of the most versatile minivans… it's one of the most versatile vehicles!
Before you head out shopping for a minivan, see why the 2016 Dodge Grand Caravan is one of the most functional and flexible vehicles on the market…
Roominess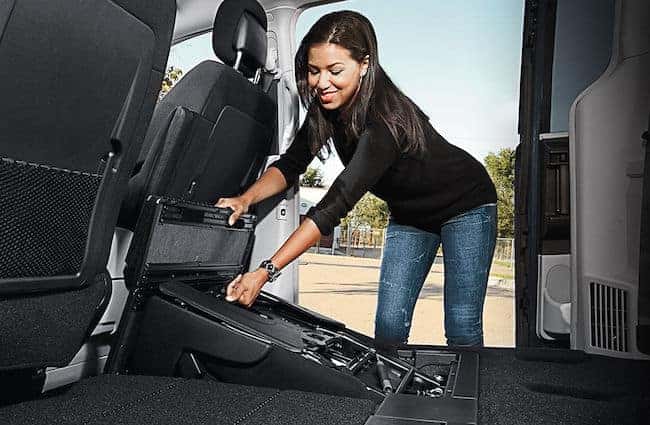 Your interior can be rearranged to provide maximum comfort and cargo room due to the vehicle's Super Stow 'N Go seating and storage system.
In regards to comfort, you can enjoy the innovative tailgate seating. When the car is parked, the 60/40 split folding third-row seats can be flipped and hidden or simply folded down. Plus, you can choose whether you want to remove a single seat or both! This makes for a customizable comfort experience, and you can further enjoy the open liftgate (which will protect you from the elements).
Of course, when it comes to comfort, the Grand Caravan provides it all. The vehicle can comfortably sit seven, and each row provides plenty of space to spread out. Up front, you'll receive plenty of head room (39.8 inches), hip room (58.4 inches), leg room (40.7 inches) and shoulder room (63.7 inches). Unbelievably, the second row might be even roomier, featuring 39.3 inches of head room, 65 inches of hip room, and 64.1 inches of shoulder room. The third row, while not as roomy as the others, may be one of the most comfortable third rows in the class. These specs are consistent for each of the six Grand Caravan models.
In regards to cargo room, the second and third rows can be hidden quickly and simply, presenting you with triple the amount of room. With an incredible 143 cubic feet of space, you can comfortably fit whatever you want (the vehicle's website suggests storing an eight-foot ladder!). There are plenty of additional nooks and crannies where you can store any of your goods, like the overhead bin (provides quick storage for the driver and front passenger), the center driver's storage, and plenty of assorted pockets throughout the interior.
Luxury/Technology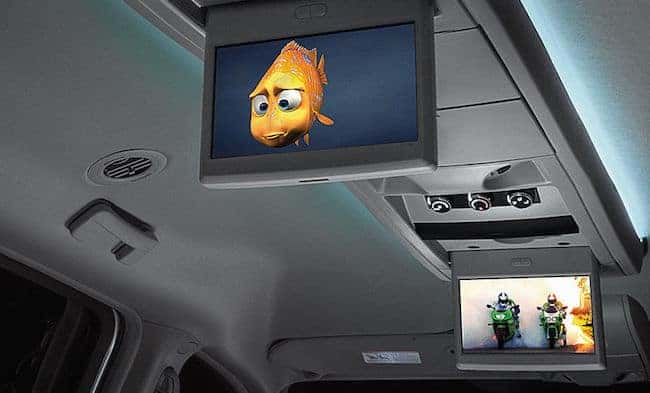 There might not be many opportunities to customize the interior and exterior of your Grand Caravan. However, you rarely see these types of amenities and features included on a minivan. The vehicle's ability to double as a family vehicle AND a luxurious ride certainly confirms its status as a versatile van.
It starts with the body, where the sleek and sharp angles make for a stylish and eye-catching design. Furthermore, potential buyers can choose from a variety of color options to adjourn their Grand Caravan. The options include Granite Cyrstal Metallic, Redline Pearl, Billet Silver, 'Brilliant' Black Crystal, Deep Cherry Red Crystal, Bright White, True Blue Pearl and Sandstone Pearl.
Head to the inside and your versatile minivan will transform into a movie theater. The Grand Caravan is the first vehicle of its kind to offer a dual-screen Blu-Ray and DVD Entertainment System, and the unit comes with a pair of wireless infrared headphones, a remote control, an HDMI connection and a pair of rear USB ports. This means your passengers don't only have to enjoy movies… they can hook up their game systems, as well.
Up front, the driver can enjoy the 6.5-inch high-resolution touchscreen, which allows the driver to access UConnect Navigation, SiriusXM Satellite Radio, and basic phone capabilities. Furthermore, with the previously mentioned headphones, passengers can't personalize their in-car entertainment. Furthermore, the Electronic Vehicle Information Center provides you will a plethora of information, including vehicle diagnostics.
There are also several technological safety features that the driver can access. The available rear back-up camera allows the driver to see whatever is behind their Grand Caravan, whether it be a curb or a car.
Driving Experience
Many minivan owners rely on their vehicle for hauling around children and their accompanying sports equipment. Unlike many rivals, the Grand Caravan is capable of doing so much more, providing the driver with a driving experience that is unrivaled in the minivan class. You'll be so impressed by the power and capabilities, you may think you're driving an SUV!
The standard 3.6-liter Pentastar V6 Flex-Fuel engine is the most powerful engine among minivans, offering a best-in-class 282 horsepower and best-in-class 260 ft-lbs of torque. The engineers included a number of design features, including dual-overhead camshafts, high-flow intake and exhaust ports," and an innovative Variable Valve Timing and Electronic Throttle Control system. This unit allows the engine to operate on unleaded gasoline that has an octane rating of 87 or E-85 (you can also mix the fuels). To top it all off, the engine can deliver a 25 highway mile per gallon fuel efficiency, a ridiculous (and impressive) number for a minivan.
The Grand Caravan was also designed to assist the driver. The all-speed traction control keeps constant tabs on the wheel spin, applying brake pressure and reducing engine power when it detects any kind of wheel slippage. As a driver, you can be assured that you'll always have the best traction. Furthermore, the Electronic Stability Control monitors the steering input and vehicle motion, keeping the vehicle on its intended path if the wheels do in fact lose traction.
While the minivan offers SUV-like power and handling, it also offers pickup-like towing. The vehicle can haul a best-in-class 3,600 pounds with the available towing package, meaning you can haul along whatever cargo you see fit. The system also includes "a Class II receiver hitch, a load-leveling and height-control suspension and a four-pin connector wiring harness." There's also Trailer Sway Control, where sensors can detect (and subsequently adjust) "an excessively swaying trailer."