Top Ten Jeep Questions Answered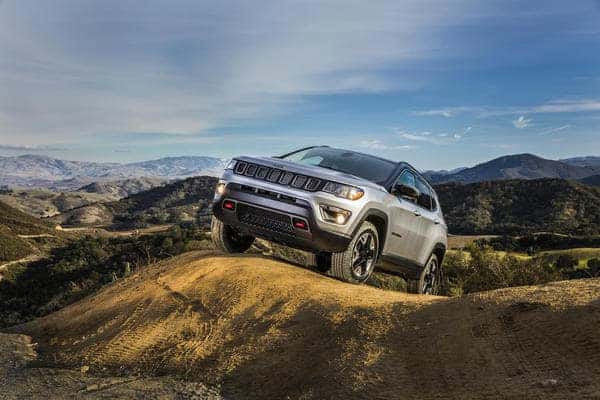 When looking to purchase or lease a new vehicle the first step in the process is research! When you start the research portion of your quest for a new car, you probably have a lot of questions. If you know a Jeep is going to be your next vehicle, but don't know which Jeep, or have questions about specific models, read on!
Top 10 questions and answers about Jeeps:
These are 10 common questions people think about when looking at different Jeep models and deciding which one fits their needs.
1. How many Jeeps are there to choose from?
Plenty! There are eight different Jeep models including the all-new 2017 Jeep Compass, Cherokee, Grand Cherokee, Grand Cherokee SRT, Renegade, Wrangler, Wrangler Unlimited and Patriot. Each of these models have a trim lineup with different configurations of the same vehicle.
2. Which Jeep is the most off-road capable?
Each Jeep model has at least one trail-ready trim level. However, if you are looking for the most capable stock model available, the Wrangler Hard Rock Rubicon or Wrangler Unlimited Hard Rock Rubicon is for you. Huge wheels and tires, high ground clearance, and plenty of off-road extras come standard with these models.
3. What is the difference between the Jeep Wrangler Unlimited and Jeep Wrangler?
The biggest differences are that the Unlimited is a four-door, five passenger vehicle and the Wrangler is a two-door four passenger vehicle. Both Wrangler models come standard with four wheel drive and various trims come standard with a hard or soft top.
4. What Jeep model is the fastest?
Looking for a performance Jeep? The Grand Cherokee SRT will blow your mind with power and performance capability. The Grand Cherokee SRT comes standard with a 6.4-liter V8 engine producing 475 horsepower. Looking for more power? Jeep just introduced the new 2018 Jeep Grand Cherokee Trackhawk, which is equipped with a 707-horsepower supercharged 6.2-liter V8 engine!
5. I need cargo space, which Jeep has the greatest cargo volume?
The most spacious Jeep, the Grand Cherokee is for you. The trunk alone provides up to 36.3 cubic feet of space and when the seats are configured, the vehicle provides up to 68.3 cubic feet of space.
6. What new Jeep is the best for someone on a budget?
The base model Renegade will be the most affordable option, pricing begins at $17,995. In addition, the Jeep Patriot (MSRP of $18,040) and Jeep Compass (MSRP of $20,995) are also pretty affordable.
7. Are there any family-friendly Jeeps?
Of course! Jeep understands that some people need the vehicle for both play and family-time. The Compass, Cherokee, Grand Cherokee, Patriot and Renegade all seat five adults comfortably. The Grand Cherokee is the largest model and it also has extra room for cargo.
8. Are all Jeeps off-road capable?
Most Jeep models are available with a 4×4 or 4×2 drivetrain, so a good place to start when looking for an off-road Jeep is with a 4×4 Jeep. Additionally, some trim levels and models are more capable than others, such as the Trailhawk trims, and there are four Trailhawk trims available on four different Jeep models. Aside from the Trailhawk trims, there are a variety of Wrangler and Wrangler Unlimited trims, like the Hard Rock Rubicon, which have very advanced off-roading features.
9. Which Jeep model is the most luxurious?
Again, all Jeep models have upgraded trims which provide luxury features. However, if luxury is what you are looking for as a top priority, the best option for you is the Grand Cherokee Laredo.
10. What's the difference between the Cherokee and Grand Cherokee?
If you look at the pictures of both, there is a slight difference in style and size. The Cherokee received a new front design with thinner, slanted headlights a few years ago and it now looks quite different from the Grand Cherokee, which has larger more square headlights. The Grand Cherokee is larger and considered the top of the line when it comes to all Jeep models.
Interested in a new Jeep? Check out our huge inventory at Kendall Dodge Chrysler Jeep Ram here! Feel free to reach out via Facebook or Twitter with anymore Jeep related questions.
Photo source: Chicago Tribune