Used Chrysler 300 – Miami, FL

The Chrysler 300 is one of the company's oldest nameplates, with a long and storied history that separates it from newer models. Owners love the fact that this car has presence on the road. It's one of the last remaining true full-size luxury cars to be built by an American car maker, as its large size is intimidating and its power is unforgiving.
At its roots, the 300 shares many basic components with Mercedes-Benz, thanks to a partnership between the two companies. It was the culmination of the the Daimler-Chrysler merger of the late 1990s. Many early and mid-2000s Chrysler vehicles were suited with Mercedes components, and the Chrysler 300 was one of the best. The shared components came from the Mercedes-Benz E-Class, which included the design of the transmission, rear suspension, all-wheel drive system, and much more.
It was designed by the great Ralph Gilles, the current head of SRT (Street and Racing Technology), the performance arm of the Chrysler family. On the outside, it's clear Gilles wanted to create a vehicle for professionals and enthusiasts alike. And with its SRT options over the years, he was also able to inject his love of performance into the 300 for a new generation of car enthusiasts.
If you're in the market for a Chrysler 300, you're probably wondering where to start. Should I buy a new model, or should I see what a used Chrysler 300 has to offer? Well, you can't go wrong with a new car, but you also need the budget to support that of a high-class luxury car.
So if you're looking for a better overall selection of model, and you want to get a deal on a Chrysler 300 for sale in Miami FL, here's what you need to know:
Why Buy a Used Chrysler 300?

As a used car buyer, the world is your oyster. There are so many cars out there that choosing just one to be yours is much more difficult than choosing a great new car. Each used car is unique in its own way. So if you're wondering why you should have your eyes set on a used Chrysler 300, here's what makes the model a great overall buy:
Value
There's just no getting around the fact that buying used will save you money. New cars depreciate rapidly starting from the moment you drive it off a dealer's lot. So for a car that's as luxurious as the Chrysler 300, you can find a model with the exact specifications you're looking for in a new car and yet get it for a bargain.
By selecting a model three to five years old, you miss that initial dip in value and can pick up a car that's comfortable, functional, turns heads, and more powerful than many performance-focused cars on the road today. What more could you want?
Selection
While the 300 is just one model, that one model has an army of trims, package levels, and other variants that make it unique. You can find each and every one of those variants on the open market, while buying new means choosing from a select few trims available in one particular model year.
Status
For many professionals, the car you drive is the image you want to convey. The 300 provides a powerful image for people who have arrived and want to succeed more and more.
Luxury: Inside and Out
At this point, we've established that the 300 is an incredible looking car on the outside, but what about the inside? A luxury car is meant to provide a certain modest, mysterious look on the outside while maintaining an elegant look that's focused on comfort and quality on the inside.
And if the Chrysler 300 did not deliver in that area, we would not be talking about it. Features like heated and cooled seats, including heated second-row seats, power backlight sunshade, heated steering wheel, adjustable pedals with memory settings, and even heated and cooled cupholders in the front part of the cabin make the inside of the 300 just as comfortable as home.
Lucky buyers might even be able to secure a great deal on a used Chrysler 300 for sale with a dual-pane panoramic sunroof. For making a drive as comfortable and enjoyable, especially with a HEMI V8, what more could you want?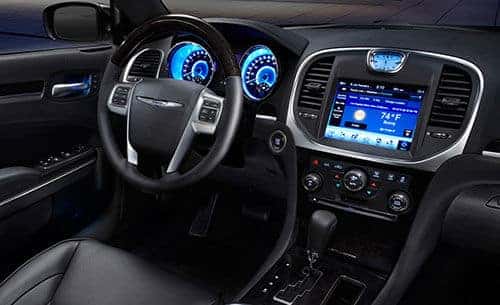 Choose Your Path: Performance or Capability

For the majority of luxury cars today, you're really paying for the status and not the performance or capability of the vehicle. With the 300, however, you don't have to worry about getting the best performing or the most capable vehicle in its class. You have options, especially with a used Chrysler 300. You can choose your path to performance or capability:
300 SRT/SRT8
The 300 SRT8 is the ultimate performance luxury car. Tuned by the masters at SRT, this car is large and in charge on any road at any time. With a 6.4-liter 392 HEMI V8 in the second generation Chrysler 300, producing 470 hp, it can go from 0-60 mph in just over 4 seconds. That number is similar to Dodge Challenger and Charger SRT numbers, and those are cars born to be rough and tough performance-only cars, not high-class luxury sedans.
On top of its speed, the SRT8 features plenty of styling enhancements that separate it from the classic 300. Large, polished chrome exhaust tips, a lowered stance, chrome trim across the whole body, and 20-inch forged aluminum wheels give it an even more impressive presence on the road than your standard 300.
To increase the overall performance, SRT gave the 300 SRT8 a sport-tuned suspension to make handling more responsive and enjoyable, as well as powerful Brembo brakes to ensure owners can safely bring their beast of a car to a stop.
If there's a car that can claim to be a jack of all trades, it would have to be the 300 SRT8. Performance, comfort, style, and luxury are four qualities that are hard to find on a single car, but it manages to do it really, really well.
300 All-Wheel Drive
Just as most luxury cars don't focus on performance, most also don't focus on being the most capable vehicles either. This generally means they're either front or rear-wheel drive, and not able to safely tackle adverse road conditions that call for a more sophisticated drive system: all-wheel drive.
What makes the all-wheel drive Chrysler 300 so special? Well, with the standard rear-wheel drive system, the car is only producing power to the rear wheels. It becomes easy for the rear wheels to lose traction in rain or snow because there's not as much weight toward the rear of the car. This can also lead to problems on the road, such as fishtailing around corners when the car's traction is most needed.
All-wheel drive makes the difference because it's able to selectably call on either the front and the rear wheels at the same time in order to gain traction and keep the car steady on the road. This actually means that in most scenarios, your 300 features the same rear-wheel drive performance, but when needed it can give power to the front wheels to help you gain additional traction. Your car's system will know when the car starts to slip, and likely before you notice. So you can rest easy knowing your 300 is safe to drive all-year long or in any condition.