Used Jeep Dealer – Miami, FL
Jeeps are about as American, if not even more American, than Apple Pie. As a brand, Jeep stands for one thing: freedom.
You're not restricted to roads in a Jeep because you make your own. And with a Jeep, your car isn't just a method of transportation, it's a lifestyle statement. You're telling the world that you're adventurous and excited.
So it's no wonder that as a used Jeep dealer we have so many people who want to get their hands on a used Jeep. If you've got a few minutes, below we'll give you reasons why you should too.
Why Join the Jeep Family

When most people buy a car, they think about price, gas mileage, resale value, and premium features. And while all of those things still matter to Jeep buyers, especially those at used Jeep dealers, the more important thing is really the ownership experience.
You'll Be a Part of History
The jeep was originally created as a government and military vehicle, known as a GP vehicle for "Government Purposes." This lead to the use of the slang term "jeep" over time to describe a variety of four-wheel drive vehicles with large capacities primarily used by the military.
Over 640,000 jeeps were used during World War II, which were used for all types of misc. tasks by soldiers overseas. They were so ubiquitous during the war, in fact, that they made up a total of 18% of all (wheeled) vehicles used by the military.
After the war, Willys-Overland, the company that produced the Jeep decided to try its hand at making civilian jeeps. That didn't take off overnight, but we do know how it ended. Today, they're everywhere!
Take a look at this comparison of a 1945 Jeep CJ (Civilian Jeep) and a 2012 Jeep Wrangler!
It's a Lifestyle Expression
While many people don't use cars to express themselves, they act as a way of displaying personality. Driving a Jeep is the way most people express their love of freedom and the great outdoors.
When people see you driving a Jeep, they think of someone really cool who lives life on their own terms.
Adventure. Anytime. Anywhere.
Normal vehicles are made to be driven offroad, even those with modern four-wheel drive systems. A Jeep can go pretty much anywhere, though. It was made to be taken beyond the limits of a normal vehicle because it had to in order to do its job back when it was primarily a military vehicle.
Outgoing Community of Enthusiasts
When you buy a normal car, you might occasionally see someone with the exact same car and think it's cool. But Jeep owners have a much closer bond. It's hard to explain, but it's almost as if Jeep enthusiasts are wired different (in a good way).
They're friendly, outgoing, and simply out for a good time. Look out for the Jeep Wave!
Get a Vehicle That Holds Value at a Used Jeep Dealer
For years, the Jeep Wrangler has been awarded with the Best Resale Value Award by Kelley Blue Book. And when it didn't win the award, it was still in the top 5, narrowly being beaten out.
This alone is one of the biggest reasons to buy a used Jeep Wrangler. Not only are you going to get an incredible, reliable, capable vehicle, you're going to get it after a lot of its depreciation has occurred, meaning your Jeep will maintain its value for years to come.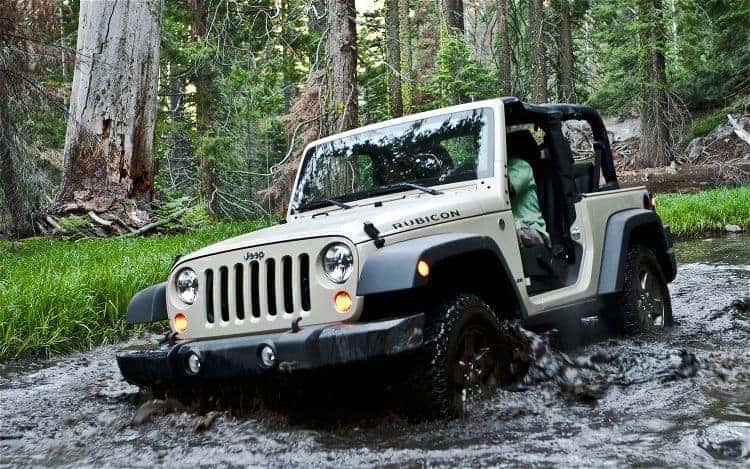 Ready to hop in a used Jeep?
Check out our full inventory or contact us for more information!