The USSV Rhino XT – A Combat-Ready Jeep Wrangler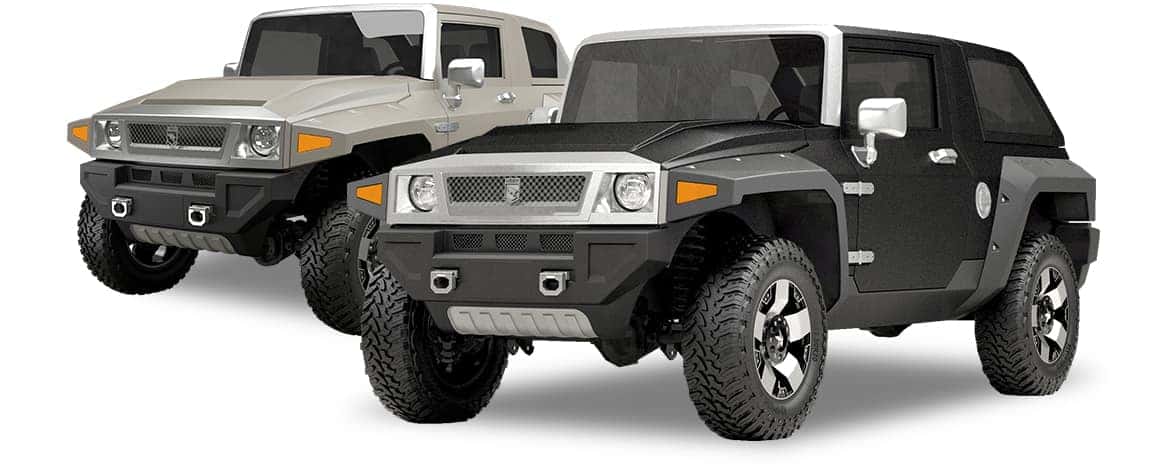 When it comes to picking a Jeep that can really withstand just about everything you could throw at it – including, it seems, a grenade – no vehicle is better suited than the impressive USSV Rhino XT, a combat-ready modification on the standard Jeep Wrangler Unlimited designed to take on even the toughest challenges. Take our word for it – this is not the kind of vehicle you'll see just sitting in the lot of your local Jeep dealer – this is a serious vehicle for serious Jeepers.
Whether you're looking for a vehicle that can handle your toughest offroad trips or you plan on storming a couple villages, this is likely the right vehicle for you. Boasting a rugged exterior festooned with aggressive, bulky body panels reminiscent of an armored truck, this vehicle means serious business on the road. Meanwhile, bold aluminum 20-inch wheels with huge 35-inch all-terrain wheels make this the most intense luxury rock crawler we've ever seen.
A slightly arched, aggressive looking removable hard top seems to hearken back to the days of the Jeep FJ, while the intense flat front grille with headlight surround and two standard heavy-duty tow hooks let everybody else on the road know your USSV Rhino XT is built for the toughest jobs around.
This four-seater boasts removable fender flares for that option of a little extra style, while deep tinted glass and windows give it that executive, reserved look.
That, of course, is to keep prying eyes from peering into the impressive interior, which features impressive four-way power seats with premium leather upholstery bearing the USSV emblem – also found on the standard all-weather floor mats to protect your precious interior. Plus, with added amenities like leather-wrapped door panels, a leather-wrapped steering wheel, and high-tech 3D appearance digital dash display, this road warrior brings with it a surprisingly deft touch of class.
That class is only further accented by the stylish "European" style dash, boasting a chrome-accented center console for your music and connectivity needs. Plus, with a standard Alpine navigation system featuring an available futuristic rearview mirror navigation system through App-Tronics, you'll never find yourself lost again. Toss in a standard rearview camera and steering wheel mounted audio controls and you've got an impressively modern car for the present day.
And since the USSV Rhino XT is built on the standard Wrangler Unlimited model, it boasts all the great features that make the Wrangler so amazing. This includes the 3.6L V6 engine, which can pump out 285 horsepower and boasts a Trac-Loc differential rear axle for total crawling control.
The USSV Rhino XT also comes with many of the Wrangler's best safety features, like advanced multistage front and side airbags, electronic stability control, and front and rear sway bars, as well as several unique additions like a reinforced and redesigned roll cage to protect against rollover damage.
With all of these impressive upgrades, the USSV Rhino XT is truly a vehicle unlike any other – and yet, built on the base of a great vehicle, shares many of the excellent qualities of the classic Jeep Wrangler. If you're a dedicated Jeeper looking for an SUV that can take on the whole world, look no further than the USSV Rhino XT – and it can be yours for just $75,000.