Vintage Dodge Charger Daytona Found In Barn Valued At $180,000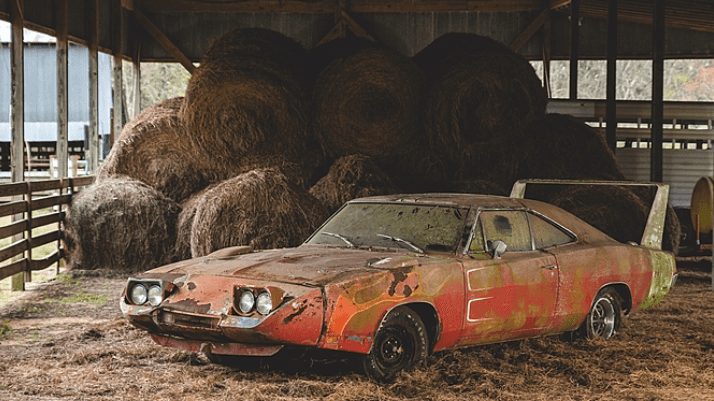 Shakespeare once wrote that some "are born great, some achieve greatness, and some have greatness thrust upon them." But, if we've learned anything about the automotive world recently, it's that greatness might also have been hiding away in your barn for the past 30 years, waiting to be discovered.
At least, that's what happened in Greenwood, AL this past December, when a vintage 1969 Dodge Charger Daytona – one of only 503 ever made – was discovered in the barn of the vehicle's second owner, having been left to rust for over three decades before rediscovery and identification by local car restorer Charlie Lyons, according to a report by Hot Rod. One thing's for sure – this is not a model you'll find at your local Dodge Miami, FL dealer.

Despite the exterior rust and the roughed-up interior, this find is a hugely valuable discovery, especially since the vehicle boasts only 20,533 miles and still has all of its original parts, including the original paint. The car will go up for auction this month through Mecum Auction in Kissimmee, FL, priced at $180,000 for the vehicle as-is. That may sound like a lot, but Mecum sold a restored version of this same vehicle earlier this month for $900,000 – to actor David Spade, for some reason –  so any buyer willing to put in the restoration work could see a big payout down the road.
The sale of this Daytona has been kept relatively secret, with the original owner and initial sale price out of the barn still not publicly known. What we do know is that the car has only had two owners, the second of who bought the vehicle back in 1974 and held onto it for the good part of the next three decades.
What makes this Daytona so impressive is its swathe of original parts, including the original white wing spoiler, the original Charger Red paint, bucket seats and a center console that are rare even for the Daytona. It's this vehicle's original parts, even down to the radiator hose clamps, that make even this rusted-out beater a highly valuable piece of vintage machinery.
Boasting a 440 Magnum V-8 engine capable of up to 375 horsepower at its peak, the Charger Daytona was known even in its day as a special edition, with notable performance power to match its impressive appearance.
Except for a minor ding on the nose, this vehicle is in prime condition – thanks, in part, to the owner having started it and moved it around fairly regularly up until about four years ago.
Although noticeably rusted out, torn up, molded over, and sporting bits of moss everywhere from the engine block to the seats, this Daytona will be sold as-is to an interested buyer, who will take on the burden of restoration for his- or herself. Given the number and quality of the original parts available, Lyon and Mecum both seem to agree that attempting any restoration prior to sale could actually hurt resale value by damaging original parts or the original paint, and so it's up to the buyer to restore as he or she sees fit.
A rare car like this only resurfaces once in a blue moon – and hardly ever with so many original parts. For car lovers, especially those who love the Dodge Charger, this is a big find for the preservation of Charger history.
Image via Mecum Auctions