What To Know Before You Drive Jeep Off-Road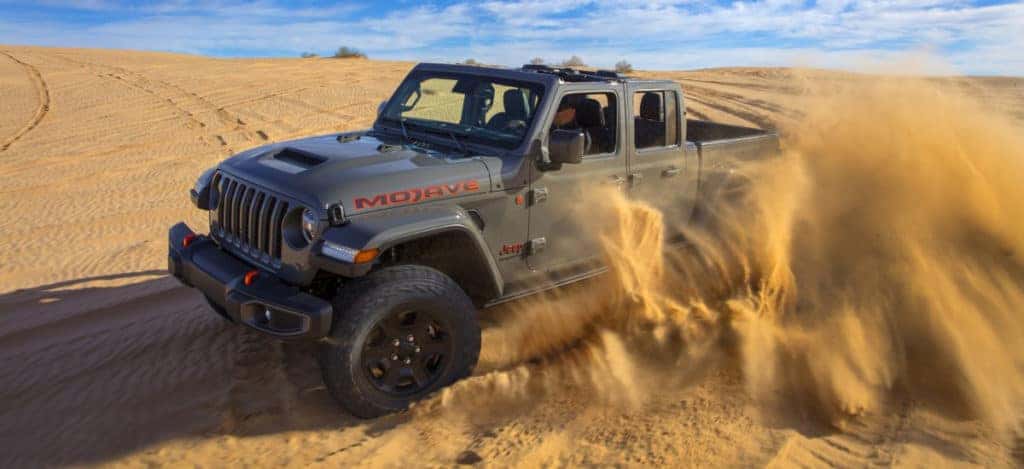 Photo: FCA
With the introduction of the latest Jeep Mojave Wrangler and Gladiator vehicles at the Chicago Auto Show, Jeep has introduced its first desert-specific, high-speed sand runner vehicles. The latest off-road ready options for customers made by Jeep are sure to be popular for those who seek adventure. Keep in mind, many vehicles aren't off-road-ready right off the lot. To be able to safely travel on roads less traveled, there are still modifications that have to be done to protect a vehicle's undercarriage. Want to know what we suggest before going on an off-road adventure? Let's cover all the basics.
Things To Keep In Mind Regarding Off-Road Trips
With most stock Jeep vehicles, they usually require a lift to allow the vehicle to have proper ground clearance, as well as the need for a skid plate to protect the vehicle's underbody parts. Riding higher up helps to ensure a vehicle is ready is required before any attempt to go out on a trail or begin any rock-crawling adventure. We recommend to not go into any stream of water that's deeper than 36 inches (three feet) as even a stream or pond can end up damaging a vehicle. Also, if a driver can't see how deep the water is, take a walk to find out how deep. Planning on taking the right path and try to spot any rocks or holes that could hold the Jeep vehicle back from moving ahead. The Mojave Jeep options are among the few options that will not require additional modifications.
Go With Jeep Mojave
Jeep provides all the tools with the Mojave trim. Owners gain a Jeep with a strong suspension that provides a stable feeling on any road. Rock crawling is something that is possible with a 30-degree approach angle and locking differentials that provide a remarkably stable ride throughout. Strong tires like the ones that come standard on the Jeep Gladiator and Wrangler. These tires are able to grab the terrain and let drivers feel confident taking their pickup nearly anywhere. The Mojave models will carry specially-tuned Fox shocks and a once-inch front suspension lift with wider tires than the standard Gladiator or Wrangler provides.
Bolsters were added to the driver and front passenger seating to help provide stability. Mojave Badges, stitching is noticeable showing off the Mojave emblem. While the pricing for the Mojave Gladiator or Wrangler has not been announced, the starting price of the base model 2020 Jeep Gladiator is $33,545 MSRP (plus destination fee) and the 2020 Jeep Wrangler starts at $28,295 (Plus destination fee). The Mojave models will arrive in showrooms by the second quarter of 2020.
Thinking About Traveling Off-Road?
Once a vehicle is safe, then owners can travel just about anywhere. Without the proper enhancements, a vehicle could end up in the shop anyway for vehicle repairs, with owners still ending up having to spend money. Why not protect the investment before risking it with a new vehicle? The first step towards taking driving the latest Jeep vehicles off-road is driving it to our Kendall Dodge Chrysler Jeep Ram dealership. Don't forget these useful tips. But, also don't end up failing to follow these simple rules to keep your vehicle, cargo and yourself safe. Make a simple online service appointment to let us know you want to come in. 
If you're looking for a certain part you'd like to add to protect your vehicle, that's something we are fully capable of handling. Check with us first and we can reach back out to you. That's some of the things we truly recommend before starting your off-road journey.