2015 Jeep Cherokee vs. 2015 Ford Escape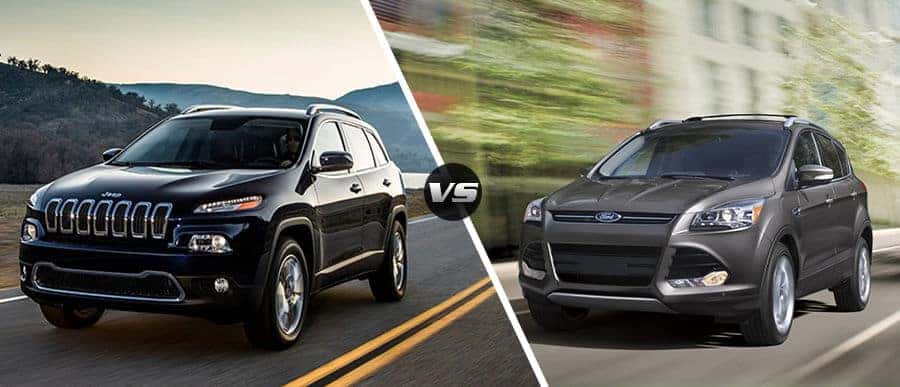 Whether you just need more room for passengers and cargo or you're looking for a rugged vehicle to take off the pavement, the 2015 Jeep Cherokee from a Jeep dealer in Miami is a prime choice.
Embodying Jeep's reputation for serious stamina, the Cherokee is an American favorite in the crossover segment.  It's iconic styling, tenacious attitude, and comprehensive list of features outdo similar models that just don't provide the same driver-centered experience.
Competitors, like the 2015 Ford Escape, don't stand up against Jeep's attention to detail and top-of-the-line performance.
It's All Under the Hood
Though the Cherokee and Ford have similarly sized engines, the Jeep boasts a mean 184 horsepower that trumps Ford's 168 ponies by a significant amount. And the Cherokee's performance is enhanced even more by its far superior transmission. With seamless transitions from its 9-speed automatic, this Jeep's ride is one of the smoothest around.
And it also takes better advantage of its available torque than the Escape. Ford's 6-speed automatic just doesn't have the same capabilities.
Get More Standard Features
If you're looking for a utility vehicle that offers an really comprehensive package, look no further than the Cherokee.  It comes equipped with standard All Season tires which are only available on the Ford Escape when you pay more for a higher trim level.
And that's not the only feature that you'll find in the Cherokee and not the Escape. How about front and rear air-conditioning? Having a way to chill the whole cabin isn't even an option in Ford's base model.
It's small omissions from a vehicle's list of features that end up being a pain in the neck once you start driving it on a daily basis. Avoid surprises and get what you need. Go with a Cherokee.
The 2015 Jeep Cherokee Offers Thorough Protection
Where the Ford Escape falls down on safety, Jeep has you covered. First off, the Cherokee has more airbags to safeguard you and your passengers in case the worst should happen.
You can count on extra protection from rear side airbags and knee airbags for you and your front passenger. Why risk your own safety or the safety of your loved ones? Opt for a crossover that goes above and beyond to prevent injury.
The Cherokee also comes with a standard security feature that is only available in more expensive Escape models. The Cherokee's engine immobilizer is an excellent anti-theft system.
Should your vehicle ever be stolen, you can remotely trigger your Jeep's immobilizer to prevent the Cherokee from starting.
Take the Fuss Out of Getting Around
When you upgrade from a car to a crossover, getting used to the larger size can be a challenge. It's especially difficult when your utility vehicle doesn't like to maneuver easily. For tighter turns, parking, and negotiating the daily hustle and bustle, the Jeep Cherokee is a much better choice than the Ford Escape.
It has a narrower body which allows drivers to pull in and out of spaces more easily. And it has a tighter turning radius so you won't find yourself holding up other people when you're trying to get around.
Don't overspend on a crossover that will leave your dissatisfied later. Keep things simple, fun, and convenient by choosing a Jeep Cherokee.