2015 Jeep Wrangler vs. 2015 Jeep Wrangler Unlimited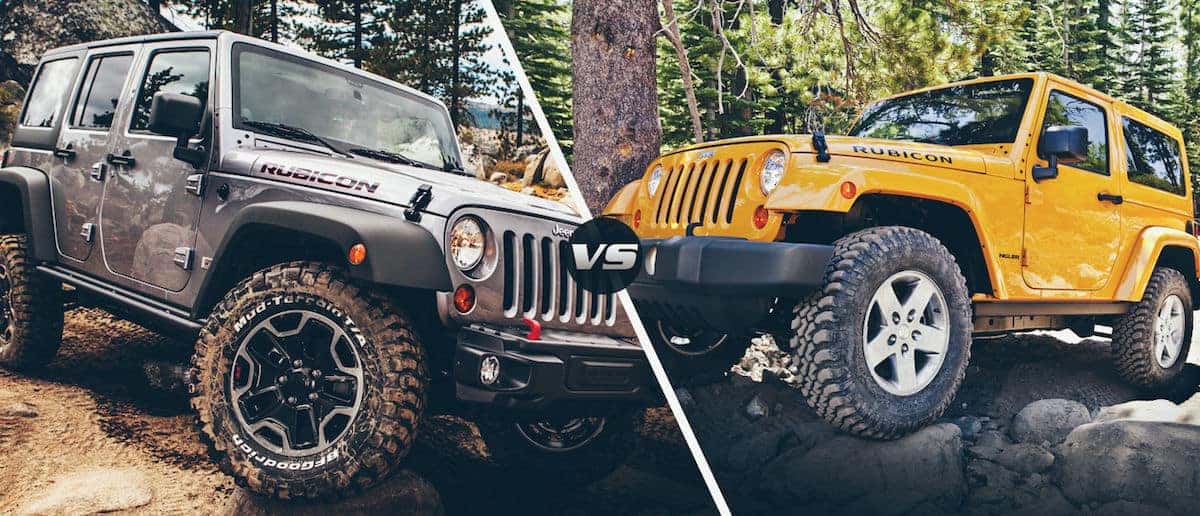 2015 Jeep Wrangler vs. 2015 Jeep Wrangler Unlimited
When you're looking for a new Jeep Wrangler, it's helpful to have a clear understanding of the differences between the 2015 Jeep Wrangler and the 2015 Jeep Wrangler Unlimited. Both are available at your nearby South Florida Jeep dealers in an impressive range of trims, packages, and special editions. The choice to purchase a Wrangler, rather than a Wrangler Unlimited or vice-versa, is best determined by your own driving needs and preferences, and how many people you plan to travel with, whether you're simply running routine errands or embarking on an amazing, off-road adventure.
Here are a few things to keep in mind when weighing your options between the two…
The Similarities Between the 2015 Wrangler and Wrangler Unlimited
Before we look at the differences, it's helpful to understand how the two vehicles are alike, besides counting the number of doors on each or noting the differences between their wheelbases. While the Wrangler is a two-door, slightly narrower vehicle, the Wrangler Unlimited has four doors and is naturally a bit wider. Both the Wrangler and Wrangler Unlimited are available in three principal trim levels: the Sport, Sahara, and Rubicon. A comparative look at each trim level for both models follows below.
The Wrangler and Wrangler Unlimited have matching powertrains, equipped with a 3.6-liter V6 engine, paired with either a six-speed manual or a five-speed automatic transmission, each generating 285 horsepower. Standard operation comes from four-wheel drive. Standard equipment includes the signature soft top; however, a hard top, known as the Freedom Top, is a three-piece modular construction available for purchase in either black or a matching body color. Safety for both models comes from hill start assist, trailer sway control, ABS with brake assist, dual front airbags, all-speed traction control, and electronic stability control with roll mitigation.
In addition to the Freedom Top hard top, options include: automatic climate control, automatic transmission, and leather interior on some higher-end trim levels. Convenience details like remote start assist and trailer tow packages are optional, as well as communication and entertainment add-ons like Uconnect voice via Bluetooth and infotainment systems, plus safety upgrades in the form of additional airbags.
With either the Wrangler or Wrangler Unlimited, you can customize your Jeep driving experience however you see fit, for whatever purpose you need. Here is a run down of the differences between the three most popular trim levels: Sport, Sahara, and Rubicon, shared by the Wrangler and Wrangler Unlimited. Keep in mind that the Wrangler Unlimited will always come more fully equipped than the Wrangler, and the prices will consistently reflect that.
What the Sport Looks Like in a Wrangler vs. the Wrangler Unlimited
In the two-door Jeep Wrangler, the Sport trim is the base level, offering cloth interior, removable doors and roll-up windows with a windshield that folds down, a folding and removable rear seat, halogen headlamps, foglamps, tow hooks, skid plates, a two-speed transfer case, Torx tool kit (for removing Sunrider soft roof top and doors), all of which sits atop steel wheels wrapped in Goodyear Wrangler P225/75R16 tires. Given that it is the base level, the Wrangler Sport does not have creature comforts like air conditioning, side steps, or cruise control, and comes priced to start at $22,795.
On the Wrangler Unlimited, you do get the added convenience of cruise control, with the comfort of standard air conditioning, but the rest of the equipment is similar to that seen on the Wrangler, including: removable doors, halogen headlamps, soft top, removable doors and roll-up windows. The Wrangler Unilmited Sport starts at $26,595.
Stepping Up to the Sahara in the Wrangler vs. Wrangler Unlimited
In the Wrangler, you'll get more fun options as standard equipment, like power doors and windows with heated power mirrors, 115-volt outlet, and the Sunrider top with sunroof. Cruise control and Sirius XM radio are operated by controls mounted on the leather-wrapped steering wheel. Access to the interior is made easier by standard tubular side steps, and an upgraded suspension with aluminum wheels wrapped in P255/70R18 tires, makes for a smoother ride.
When it comes to the Wrangler Unlimited Sahara you'll get the same body-colored fender flares, and cosmetic upgrades as the Wrangler Sahara, along with similar equipment. But the Unlimited Sahara also comes with remote keyless entry and larger 18-inch painted aluminum wheels. The Unlimited Sahara is priced at $32,395, while the two-door Wrangler Sahara starts at $28,595.
The All-Terrain Power of the Wrangler vs. Wrangler Unlimited
Priced at $31,695 and built specifically for all-terrain adventures, the Wrangler Rubicon adds off-roading equipment to the Sahara package, like rock rails, front and rear locking differentials, disconnecting front stabilizer bar, 4.10:1 manual axle ratio, front and rear tow hooks, Dana 44 front and rear axles, Rock-Trac transfer case with 4:1 low range, and painted aluminum wheels covered in BF Goodrich Mud Terrain LT225/75R17 tires. The remote keyless entry and power windows seen on the Sahara are still available as optional features, but do not come standard on the Wrangler Rubicon.
Sacrificing none of the power of the Sahara models, the Wrangler Unlimited Rubicon adds to those features the same off-roading equipment as the Wrangler Rubicon, and is priced slightly higher at $35,495.
Both the Wrangler and Wrangler Unlimited offer additional off-road power in stepped-up versions of the Rubicon trim, including the Rubicon X and Rubicon Hard Rock, which also feature added luxuries like heated leather seats.
Comparable Fuel Economy
Jeep Wranglers, whether two-door or four-door Unlimiteds, are not known for their competitive fuel efficiency. While the Wrangler gets an EPA-estimated 17 city and 21 highway miles per gallon, the Unlimited comes in at 16 city and 21 highway with manual transmission and 16 city, 20 highway rated from the automatic. Off-roading really compromises fuel economy in the Wrangler and Wrangler Unlimited, but true Jeep enthusiasts find that a small price to pay for big off-road adventures.
Which One Is Right For You, the Wrangler or Wrangler Unlimited?
Of course, other packages and special editions are optional on both the Wrangler and Wrangler Unlimited Jeep models. For the best fit, consider how you intend to drive your Jeep and keep in mind how many passengers will most often travel with you. If there will be more than one, your best bet is to test drive the Wrangler Unlimited for everyone's enhanced comfort and space.
But, if you're a solo road or trail warrior, or have a single dedicated shotgun rider, the Wrangler should more than satisfy your desire to "Go Anywhere, Do Anything."