11 Bucket List Items for Jeep Lovers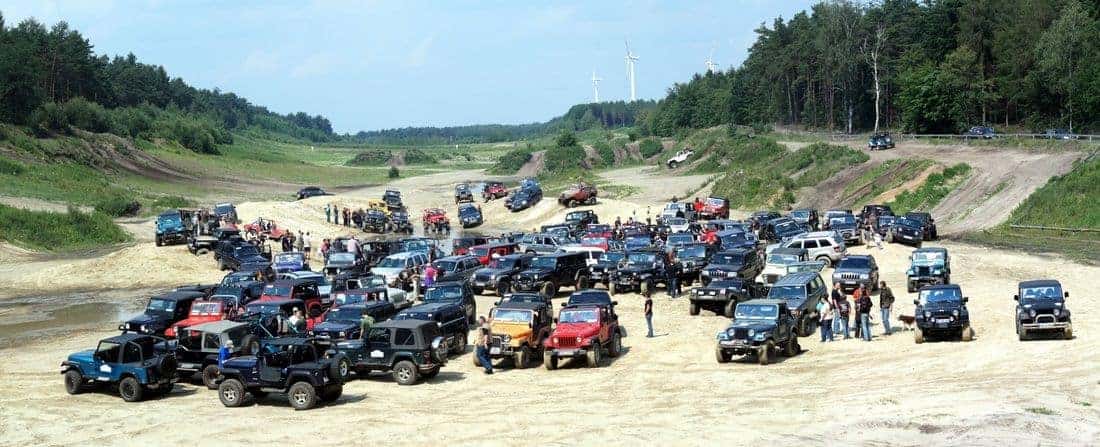 Jeep culture is filled with countless longstanding traditions that contribute to the uniqueness of the off-roading lifestyle. From doing fun mods in the garage to hitting one-of-a-kind destinations for some all-terrain adventure, the possibilities for expressing your Jeep love are endless.
However, there are some experiences that should be categorized as "musts." When it comes to these Jeep rituals, you shouldn't wait around and see if you find the time.
These time-honored practices belong on the bucket list of every true Jeep enthusiast. So whether you just bought your first brand new 4×4 or you just picked up your fifth one from a 
used Jeep dealer
, get out your pen and pad and take down this list. You need to start planning.
Own a Wrangler
If you're a Jeep fan who's taken years of pleasure out of your Cherokee or Grand Cherokee but never owned a Wrangler, you know what to add to the top of your bucket list.
All Jeeps are great, but anyone who drives a Wrangler will tell you there's something particularly special about hitting the trails with the top off. Plus they're so much fun to modify and individualize. Owning a Wrangler is an experience that every Jeep lover should definitely have at least once.
Join a Jeep Club
Heading out on an off-road adventure is always a blast, but it's exponentially more fun when you're surrounded by other Jeep enthusiasts who are just as amped as you are. When you join a Jeep club, not only is there a deep feeling of comradery, but you also get inside tips on the coolest mods, the best destinations, and the most exciting Jeep events.
If you've never been part of a Jeep club, it's time to get your Google on and find one near you. Whether your first excursion ends up being a beach party or a group expedition into the deep woods, you're bound to have a great time.
Fix Up and Mod an Old Jeep
All true Jeep lovers uphold the Jeep wave, but of course there are those Jeep drivers you wave to a little more emphatically because their classics demonstrate real commitment.
What would you do if you got your hands on an old CJ or an iconic XJ Cherokee? Restoring and personalizing a retro Jeep is an opportunity that no one should miss out on. It demonstrates genuine dedication to Jeep heritage and lifestyle. If you ever find a good deal and have a hankering to get your hands dirty, don't pass it up.
Take a Trip to Moab
All Jeep enthusiasts have their own favorite locations to lower the tire pressure and get down and dirty. But there are some classic destinations that every off-roader dreams about. And 
Moab, Utah
 is one of them.
The setting for the trail testing of so many Jeep's throughout history, Moab offers some of the most challenging and thrilling off-roading experiences in the U. S.
It's a place with one of the strongest 4×4 cultures in the country, and it delivers stunning views that you won't come across anywhere else.
If you ever get a chance to hit the road in your Jeep and head to Utah, you can pretty much guarantee it will be the trip of a lifetime.
Drive it in the Rain
Though it's hard to describe, almost anyone who owns a Jeep Wrangler will tell you that there is something unbelievably satisfying about driving with the top down and the doors off in the pouring rain.
There isn't a whole lot more to say about it, but it's a must try. So get out there and look for some dark clouds you rebel.
Go to a Jeep Jamboree
Currently, over 30 Jeep Jamborees are held throughout America each year. They give 4×4 enthusiasts the chance to meet new like-minded people, test the capabilities of their vehicles, and explore new parts of the country.
Jeep Jamborees were originally inspired by famous off-roader, Mark Smith, who conducted a 21,000-mile Jeep trek from South America all the way to top of North America in about a month.
Now, Jamborees are held nationwide, attracting all different kinds of Jeep lovers to prime trails sprinkled around the U.S. Never been? This is not something you want to miss out on.
Look at the available dates online, put in for some vacation time, and sign up to be part of one of the most beloved Jeeping traditions of all time.
Drive Cross Country
It's one thing to cross the States in a beat up Buick when you're 18, and it's another to enjoy it with the top off, taking in all of the sights America has to offer.
Going coast to coast in a Wrangler gives a cross country trip an entirely new meaning. And it will leave you with some of the best stories you'll ever tell your grandchildren.
Get a Jeep Camper Trailer from Mopar
Why rush an awesome day of off-roading when you could have your own camper at the ready? Mopar's specially designed camper trailer can fit up to four adults, and there are a ton of handy features packed in.
Each camper comes with a queen-size bed, a sofa with a stow-away table, a 110-volt power inverter, and a built-in aluminum cabinet for storage.  The trailer's looks are made to blend right in with the exterior of your Jeep, making it a rugged addition to your gear.
So don't break your back sleeping on the ground or cut your day short to get back to some low-end motel. Grab your portable camper and set up when you feel like it.
Visit the Walter P. Chrysler Museum
Okay, yeah, yeah, yeah, a museum sounds boring but not when you get to see some of the earliest Jeeps that are still around.
Just imagine standing directly in front of a 1941 Willys MA. The Chrysler Museum in Michigan gives you a chance to trace your passion back through the years. With several levels of classics ready for you to explore, it's like stepping into a time machine.
Get Muddy
Every diehard Jeep fan should get his or her 4×4 absolutely covered in mud at least once. Though there are many off-roaders out there who consider it their duty to get that muddy at least once a week, there are others who have never played in the stuff.
Although you may find your perfectly decked out Jeep most attractive when it's pristine, it's every Jeepers responsibility to get really dirty every now and then. Hit the trail, find the boggiest bog you can, and dig in. Remember, don't stop until you can't see through the windshield anymore.
Help a Stranger
Okay, you know that mud we just mentioned? Well occasionally, people get their Jeeps lodged in situations that are just a bit too sticky to get out of on their own.
That's where fellow Jeepers come in. One of the most rewarding feelings for an off-roader is helping someone else to get back on dry land, fix a flat, or get their battery running again.
The other nice thing is knowing that just about any Jeep lover would do the same for you if they saw you were in trouble out on the trails. Whenever you can, pay it forward, boost your karma, think about it however you want, but always help out fellow Jeep folks when you can.