Chrysler Pacifica Hellcat? We've Seen It All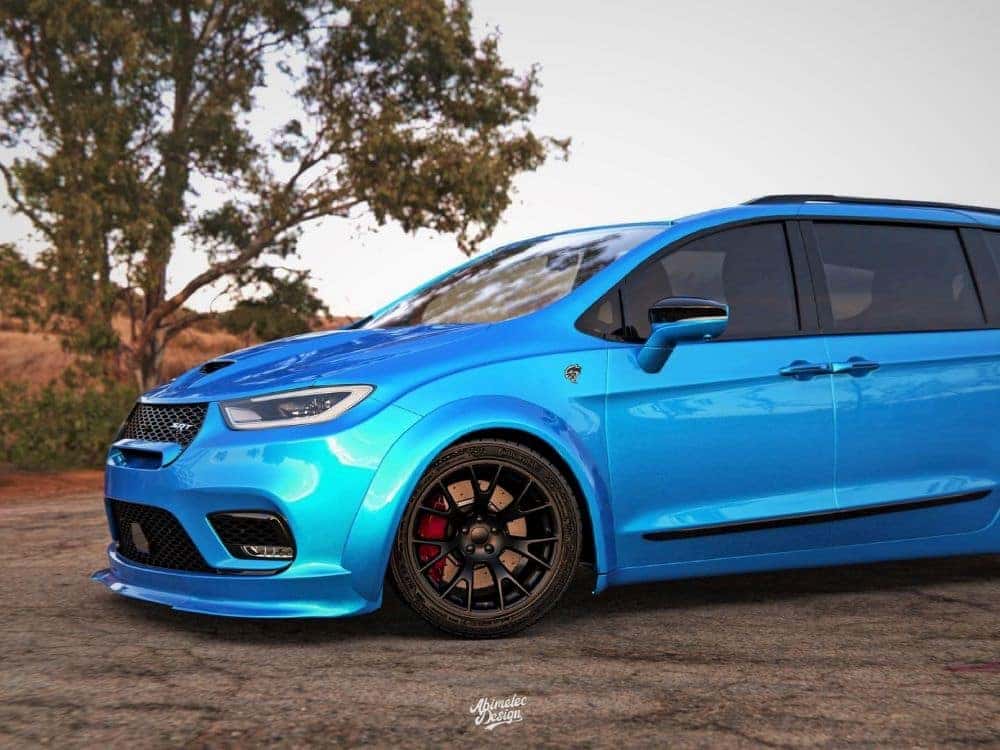 A Chrysler Pacifica minivan that carries a Hellcat engine; sounds made up, right?. Something about that sentence doesn't seem realistic, but it's the goal of one hopeful auto body worker. Perhaps someone should have told Fredy Hernandez this when he added one to create the 800 horsepowered Pacifica as a part of eBay Motors for their Auto Parts Show. As the sister company of Chrysler, Dodge, makes their mark on muscle cars, Chrysler has long held its own within the minivan segment winning illustrious awards one after another. But, no Chrysler has carried anything like the SRT Hellcat powertrain. 
Monstrous Power In the Chrysler Pacifica?
Chrysler has seen its lone sedan option, the 300, carry its V6 power through the years with the 2022 Chrysler 300 still providing kicks for drivers, but the vehicle never carried this much horsepower. There was once a 6.4-Liter V8 engine inside the 300C years ago, but they have not decked out the 300 or the Pacifica minivan with that much of an exaggerated strength output. The aesthetic for Chrysler has always been its luxurious design and quality details more than its ability to perform like its Dodge muscle car siblings. Stellantis has looked to change the game with a greater emphasis on crafting the right vehicle for drivers with the 2024 Chrysler Airflow EV SUV coming into production soon. 
Building the First Pacifica Hellcat
The Pacifica and Pacifica Hybrid minivan offer perks like its Stow-n-Go storage that saves owners the hassle of working to move space around just to fit what they need into their van. The amount of space generated by simply and easily moving the seating into the storage of the middle portion of the minivan has long been noted and celebrated by buyers. The Stow-n-Go perks were removed from the Pacifica Hellcat to provide for its large engine. The plan is being worked out with the goal to add a Redeye-spec Brembo brake setup and OEM Redeye wheels that are painted matte bronze and a Frostbite body color. The folks at Abimelec Design have a lot of work still left to complete the ride, but they are close. While this is still a dream for Hernandez, we have seen the effort placed into making this unheard of venture.
Want to experience the joy of the award-winning 2022 Chrysler Pacifica and all its available perks, or test-drive a new muscle car? We have the options to let drivers choose both at Kendall Dodge Chrysler Jeep Ram. We are ready to see the changes and can't wait to see our customers in-person. 
Shopping Has Never Been Easier This Spring
We have a friendly and passionate sales team that will meet your buying, leasing or selling needs. Come check out everything we have to offer, including everything in our large new vehicle inventory. If you're wondering if you should buy or lease? We can help you make the right decision. From trade-ins to selling, we're ready to provide a solution. 
Our professional service team handles repairs and regular maintenance daily. With a simple online appointment, we can get started making you a happy customer. We look forward to seeing you soon at Kendall Dodge Chrysler Jeep Ram. We'll see you soon!
Photo Credit: Abimelec Design
.