Conquer The Wild In A 2016 Jeep Wrangler Rubicon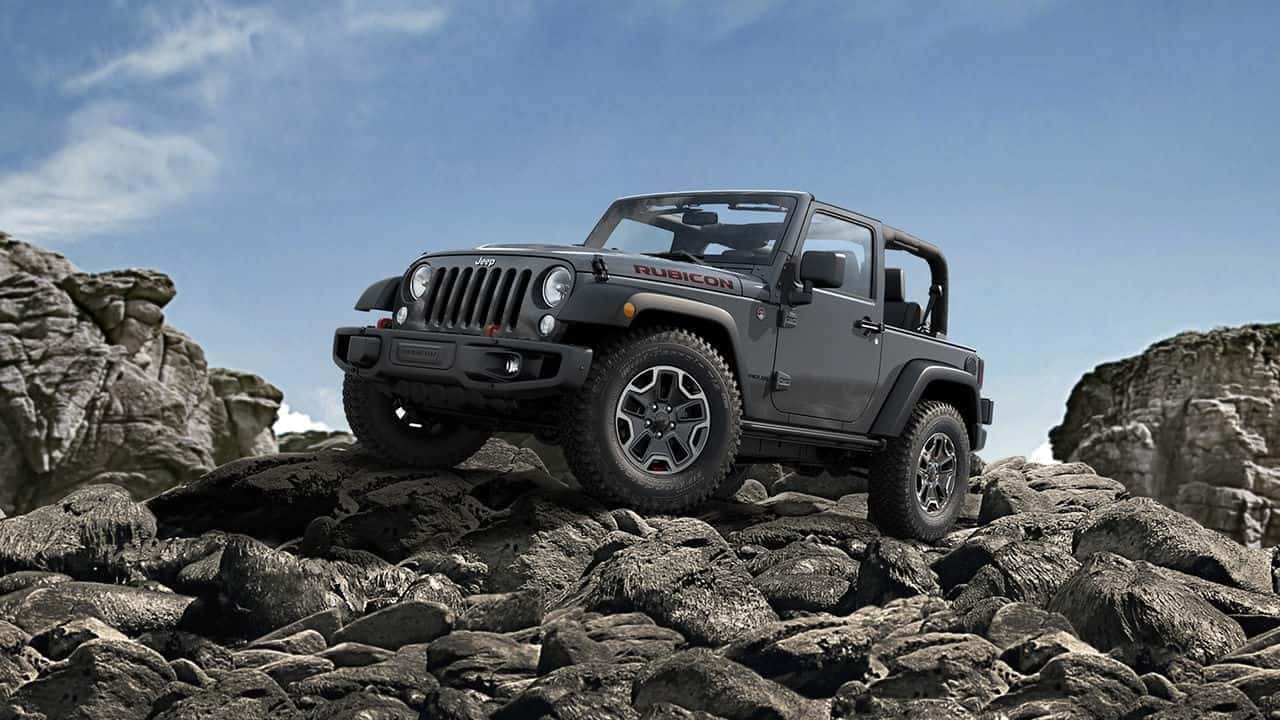 Sometimes, having anything less than the best just doesn't feel like enough. Jeep drivers know this best – whether they're confidently cruising down the highway or crawling over the craggiest mountain faces out in the wilderness, there's always the pride of knowing you're in an excellent, capable, and reliable off-road vehicle. And for those who simply can't settle for anything short of the absolute best, look no further than your local Jeep dealership in Miami and you'll find the classic king of the hill, an icon built to take on the rest and leave them in the dust: the 2016 Jeep Wrangler Rubicon.
Named for the legendary Rubicon trail in Northern California, the Jeep Wrangler Rubicon line has taken on the toughest challenges and come out on top since 2003, and today the trim level remains one of the most dependable, most lauded, and most popular options among the widely-revered Jeep brand lineup. Those who come looking for serious mountain crawling power know that no lesser Jeep than the Rubicon can handle what they've got in store for it, and among these drivers, there is a clear consensus: the 2016 Rubicon is the best of a great thing. Featuring modern convenience upgrades mixed with the classic performance capabilities that make Jeep so legendary, this new Rubicon is built for the modern driver like no other before it.
Ready to put a little bit of Rubicon into your life? Here's a look at this unparalleled Jeep Wrangler trim, and why it might just be the off-roader you've been dreaming of all this time.
Take On The Trail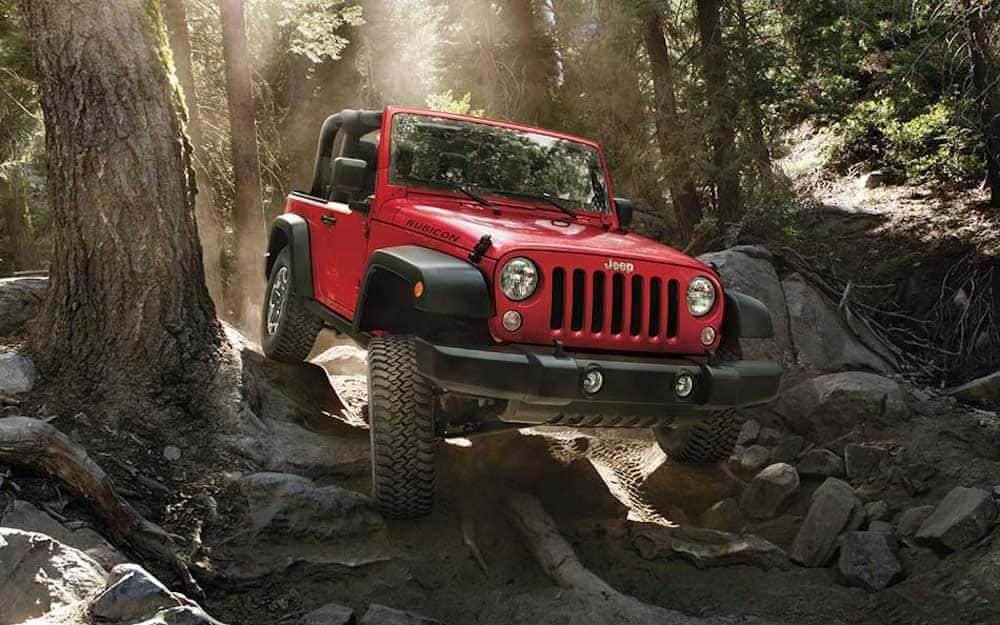 When it comes to performance power, the Rubicon is best where it belongs – out on the trail. With engine options and handling features all carefully constructed to conquer even the most intense rocks and ridges, the Rubicon is ready for just about any back road you take it on – if that is, you're ready for the ride of a lifetime.
Excellent Powertrain Options
At the heart of this mighty mountain climber lies Jeep's powerful 3.6L V6 Pentastar engine, capable of pumping out 285 horsepower and 260 lb.-ft. of torque for all your high-powered needs. Plus, with an impressive fuel economy of 17 mpg city and 21 mpg highway, you can spend less time worrying about the gas tank and more time exploring in your new Rubicon.
Part of what makes this 4X4 so efficient is its smooth shifting six-speed manual transmission. But, for those looking for something a little easier, the Rubicon also offers an available five-speed manual transmission as well. This gives you seamless control over your Jeep both on and off the road for easy performance power.
Trail-Rated Performance Capabilities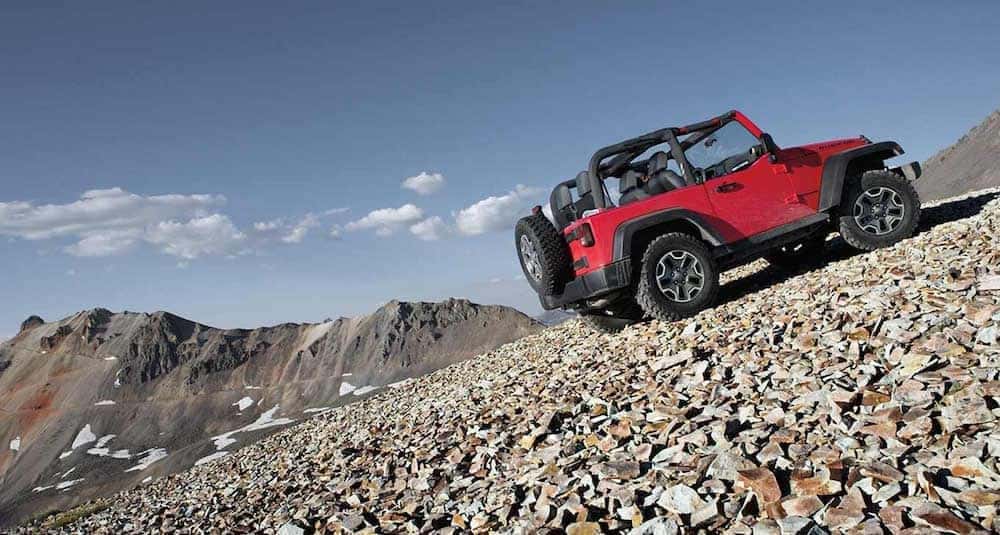 Of course, having an impressive powertrain isn't what makes the Rubicon such a capable offroader. For crawling capabilities like these, you need some seriously sophisticated performance features like the Rubicon's 4:1 Rock-Trac Part-Time 4WD system for taking on those tough patches, heavy duty axles with dual differentials and rack-and-pin steering, and performance suspension, all of which work together to make your Jeep more capable than any that have come before it. With the Rock-Trac 4X4 system, drivers can seamlessly switch between four different terrain choices: Mud, Sand, Snow, and Rock, all of which are optimally engineered to handle their specific terrains.
If you've ever experienced serious damage while out on the trail, fear no more, for every Jeep Rubicon comes with standard skid plates to protect your Jeep's most vital pieces. That means you can take on those rocks with confidence knowing your vehicle is protected where it matters most. And because we all know how unexpected things can be offroad, the Rubicon also offers available front tow hooks and fog lamps for those worst jams out on the trail, and a wash-out interior with a removable drain plug for when you finally roll up back at home.
Structured For Safety
As important as excellent performance may be out on the range, making sure your vehicle is safe is an even more critical component to constructing the best Rubicon that ever was. That's why Jeep has included all kinds of safety-oriented features in this new Rubicon model, all of which work together to help keep you and your passengers out of harm's way at all times. These include standard advanced multistage front and available side-supplemental airbags with sensor detection that can respond immediately to an accident, as well as the standard antilock disc brake system that helps prevent them in the first place. Electronic Roll mitigation helps prevent rollovers, while Hill start assist removes the fear of rolling into someone on a steep incline. Plus, with everything from Traction Control for those slippery roads to the Sentry Key Theft Deterrent System, your Rubicon is built to keep you out of harm's way and on the right path, no matter where you find yourselves.
A Luxurious Cabin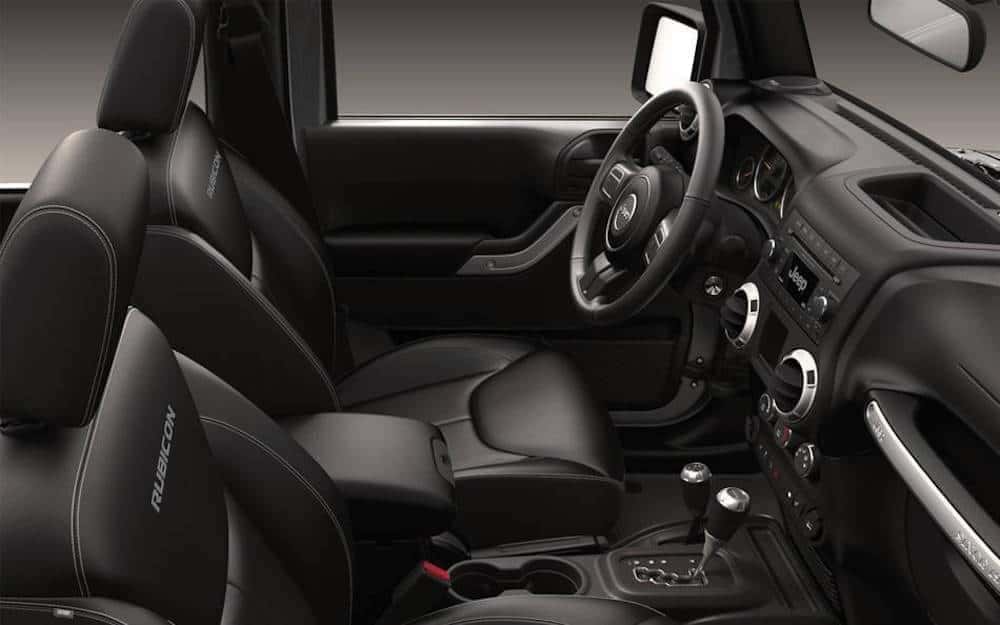 What most obviously sets the Rubicon apart from lower Wrangler trim models, aside from the improved performance capabilities, are the expanded amenities found a standard or available throughout the Rubicon's ultra-modern cabin. Whether you're looking for the latest entertainment tech or an easy way to make your drive more convenient, there are few better options than the Rubicon to fit your needs.
Built For Style and Comfort
If you can tear your eyes away from the Rubicon's gorgeous exterior – complete with available Rubicon side graphics, available 17-inch polished mineral gray wheels and a wide selection of tops, doors, and colors available – you might just notice some impressive features inside, including the premium cloth seating or available leather bucket seats, and choice of four different interior color options. Plus, for those who love to be in total comfort, the Rubicon offers an available air conditioner with automatic temperature control, an optional air filter, and an available humidity sensor to help keep your cabin in the best condition possible for your ride.
Convenient Tech Options
Those looking for a more modern feel can also enjoy the Rubicon's available 9-speaker Alpine Premium Audio System or an available five-year subscription to SiriusXM Satellite Radio with Navigation, meaning you can get lost and enjoy your tunes with confidence just about whenever you want. Whatever you need, the Rubicon has it – and will bring it along on just about any adventure.
So whether you're a longtime Wrangler fan or new to the Jeep scene, it's easy to argue that the Rubicon is one of the most impressive members of this respected family of off-roaders. If you're ready to see what all the fuss is about for yourself, get over to your local Jeep dealer and see what the Rubicon has to offer – but move quickly, before they're all gone.