Hot Tuscadero Pink Jeep Honors 80 Years of the Wrangler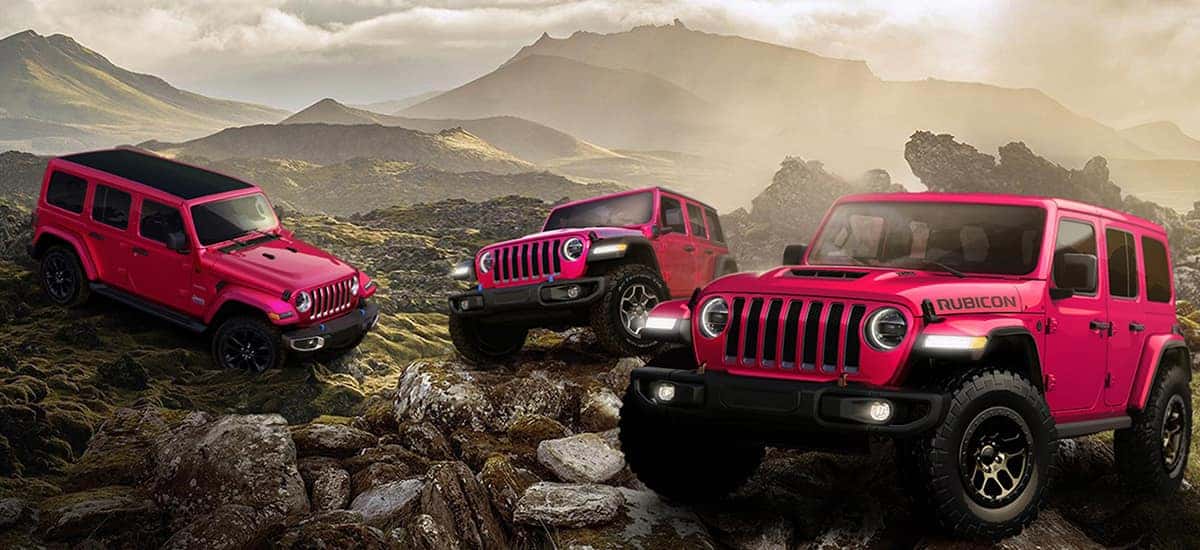 Jeep will introduce a spectacularly loud color for the Jeep Wrangler: Tuscadero Pink! The option will become available now through November 2021 as a $395 price option for the bold and extremely colorful pink body color on all Wrangler models. The last time we saw this remarkably potent pink color was back in 2010 for the Dodge Challenger. Dodge is one of the brands tied with Jeep parent company Stellantis. With over eight decades of Jeep vehicles, we are seeing a signal of the celebration offered by way of creative package choices from those at the top of Jeep. Speaking on behalf of the off-road champion brand, Jim Morrison had this to say about the heritage of the brand and the decision to add this color to the iconic mid-size SUV. 
"With the Jeep brand celebrating its 80th anniversary, it's the perfect time to launch a confident and custom color on the most iconic Jeep vehicle – both of which are designed to break the mold and stand out on the road and trails. What's unique about colors like Tuscadero is that they draw a huge enthusiast following because they're exciting, authentic and stand out, much like the Jeep community," Jeep North America Vice President Jim Morrison said.
Unmatched Jeep Wrangler Power
An all-new turbocharged powertrain was fitted into the Wrangler 4xe last year for the 2021 model year and will return for the 2022 model year. This engine provides 375 horsepower and 470 lb-ft of torque. This new Wrangler trim was a huge draw for EV enthusiasts that are looking for a Jeep. However, many shoppers want to experience the true reason most Jeep owners bought their vehicle in the first place; exploring off-road trails in a Jeep. The Jeep brand is launching this new 4xe trim (Four by "e") for more than the Wrangler. This is just the beginning of all the electric plans coming to the Jeep brand. 
Experience the Luxurious Side of Jeep
The Jeep lineup is looking more luxurious than ever with the addition of new full-size SUV options. The Grand Cherokee L might receive some 4xe trim consideration, but time will tell. The Cherokee L, Wagoneer, and Grand Wagoneer are no less a Jeep vehicle than its Wrangler cousin. Jeep maintains that both a hybrid model and hands-free driving will be available ultimately. We expect the Jeep brand to offer the 4xe trim across more than the Wrangler and Gladiator before long with the other vehicles like the Jeep Renegade and Compass as a possible choice to gain this new electric trim as well. Want to check out the newest Jeep vehicles? Not only on Wednesdays do we wear pink (the kids at the cool table do), we secure hot Jeeps ready for a test-drive. Look no further than Kendall Dodge Chrysler Jeep Ram!
New Jeep Vehicles Are Ready and Here For You
Go through our entire brand new Jeep vehicles. We're more than able to assist our customers for any buying, leasing, selling, or needs they may have. We can also help buyers trade-in their current vehicle. Our knowledgeable sales team shows off all our new vehicle inventory and high-quality pre-owned vehicles with pride. 
Not sure if your current vehicle is running well or needs some work? We're here! We are able to make sure you're back on the road fast with our experienced service staff. Make an online service appointment and we can help you with your vehicle problems. We look forward to being your center for all things automotive. Check with us today at Kendall Dodge Chrysler Jeep Ram.