Spy Shots Detail Refreshed Jeep Compass Set For 2021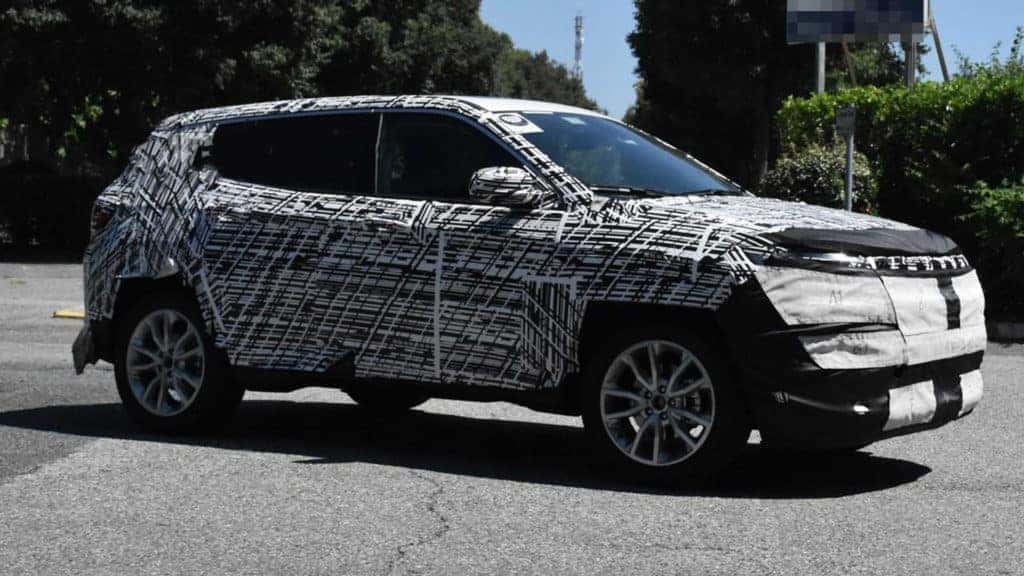 Photo credit: Gabetz Spy Unit
Before long, the Jeep Compass is set to see a new look both inside and out. According to Gabetz Spy Unit, who has captured the image above, there will be noticeable changes coming to the refreshed Jeep Compass set for a debut in the fall of 2020. While the job by Jeep to camouflage does hide a lot, we gain an insight into what the vehicle could be like. The interior and cabin look a small impression into the cabin that shows up including its new dashboard and materials used. While we are still about a year from its debut, the current second-generation Jeep vehicle is going to gain some major upgrades.
A Glance Into the 2022 Jeep Compass
As the images that have come out suggest, a new look to the Jeep Compass is evident and a smart move. Because of the Jeep brand's heavy front covering of the front of the vehicle, we can imagine a newer grille but we are not certain yet. Perhaps Jeep has added a new face to the vehicle that saw sales dip lower this year, although most vehicles have due to the impact of the Coronavirus. The precise details we've discovered include a new batch of taillights and its narrower design. The lamps are longer and are the same height the entire way through.  The elongated lighting look is futuristic and provides more detailed lighting. However, the camouflage does minimize if there are further changes made to the back end of the Compass. 
Futuristic Dashboard Is Evident
We can see the Compass' profile seizes a glance at the revamped cabin. The new infotainment screen that advances beyond the dashboard is quite unique and offers a different look over the current Uconnect display in the Compass today. The refresh might have a different engine as the 2021 Compass is fit with the two of either a new turbocharged 1.3-Liter four-cylinder with 130 horsepower or 150 horsepower in the S trim level. However, those configurations are for Europe. We know that the upcoming Compass 4xe is getting closer to its debut along with a plug-in hybrid powertrain available with 190 or 240 horsepower option with a purely electric range of 31 miles off a single charge. 
Jeep Has Followed Through On Its Plans
This is all part of Jeep's production developments that stretch from its 2018 plans. The arrival had the Compass set for 2022, but it has moved up slightly and it will arrive in 2021 as a 2022 model year product. Jeep will have a new look line-up within the next two years as another SUV is making a return to the Jeep brand in the Wagoneer and Grand Wagoneer. A future Jeep Compass is coming, but the new 2020 Jeep Compass is still available and ready for purchase. For all orders or to even step inside a vehicle from the comfort of wherever you are, reach out to us at Kendall Dodge Chrysler Jeep Ram today.
We're Here For You Online And In-Person At Kendall Dodge Chrysler Jeep Ram
We're all about providing more for our customers to enjoy their shopping experience, even buying online. Feel free to browse through our new Jeep inventory to see all our latest options. We have a friendly and passionate sales team that will make your buying, leasing or selling needs easy for any of our new vehicle inventory. We're happy to be your dealership home. Considering a high-quality used vehicle? We have a wide selection for all to choose from.
Trust us to help you get your vehicle up and running like new with an online service appointment and visit to our service center.  At Kendall Dodge Chrysler Jeep Ram, we know what it takes to provide a worthwhile experience. Allow us the pleasure to help out today!