The Differences Between the Ram 1500 and Ram 1500 Rebel TRX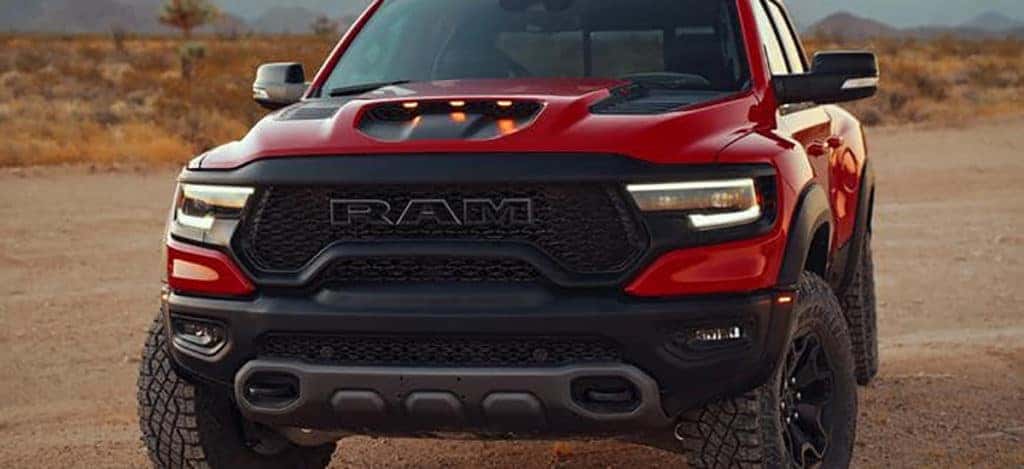 Photo credit: FCA Media
While fans of the Ram brand have been anticipating the day they can first drive home (or off-road) with the Ram 1500 Rebel TRX, Mopar has been ready. The parts supplier for Fiat Chrysler Automobiles (FCA), Mopar, has prepared customers with over 100 new supplies aimed at improving the remarkable new Ram pickup. A sense of urgency among fans has grown more and more boisterous waiting to drive the new Ram powerhouse pickup. So what has Mopar created to offer customers that decide on the 2021 Ram 1500 Rebel TRX?
New Mopar Parts Fit For the Ram 1500 Rebel TRX
A truck bed sports bar and aluminum rock rails are both listed at $1,195. Bed spare tire mouth will cost $995, a lighting kit runs for $595, rear bed step for $395, bed rails with adjustable tie towns for $250, and $165 for rubber floor mats are just some of the extra goodies customers can add. Keep in mind, the cost of the 2021 Ram 1500 Rebel TRX is $71,690 MSRP (Plus destination fee). The perks of the new exceptional Ram has plenty more unique parts offered by Mopar. There are few vehicles built like the TRX, but let's explain just how different the TRX is compared to the Ram 1500.
Biggest Differences With the Rebel TRX Vs the Ram 1500
There are obvious differences between the standard 2021 Ram 1500 versus the massive Rebel TRX. A wider ride at 8-inches wide and a front track that is 6-inches wider and fenders 2.5-inches taller to accommodate the larger 19-inch wheels and 35-inch tires. As much as 50% of the air is able to pass through the flow-through grille. This is a unique feature for a pickup, but this feature is partly what allows the Ram pickup to go so fast. The air intake is an impressive feature that owners will appreciate. As much as 74% of the bed frame is changed from the Ram 1500. The Ram 1500 Rebel TRX can go as fast as 118 mph in the desert. An improved front suspension is what helps the pickup remain stable while going over sand and any terrain.
Perks of the Ram 1500 Rebel TRX
The TRX is equipped with the strength of the 6.2-Liter supercharged V8 engine; this the same powertrain that is found in several fellow FCA branded vehicles, all of them Dodge vehicles; both the Dodge Challenger and Dodge Charger SRT Hellcat muscle cars and the fastest three-row SUV ever made in the Dodge Durango SRT Hellcat. With 702 horsepower and 650 lb-ft of torque that will put a smile on the face of any owner. The TRX is built to handle traveling across any terrain with a 0-60 mph of just 4.5 seconds. This massive pickup can launch from 0-100 mph in a remarkable 10.5 seconds and finish an entire quarter-mile in just 12.9 seconds with a top speed of 118 mph. The full-size pickup will start to be delivered slowly towards the end of 2020 and become more readily available in 2021. Want to know more about the upcoming Ram 1500 Rebel TRX? Allow us to share everything we know.
Find the Newest Ram Trucks At Kendall Dodge Chrysler Jeep Ram
We love our collection of Ram pickups. Are you hoping to drive the all-new 2020 Ram 1500? We also carry the newest Ram Rebel, so our customers can experience all the off-road fun today! Come to us to drive new Ram trucks. We are ready for trade-ins and selling vehicles as well. We're ready to provide a solution for our customers and ensure a stellar experience the whole way through.
Don't deal with the problems of a vehicle in need of repairs. Allow us to get your vehicle back into shape with a simple online service appointment. We can get started on making you a happy customer. Stop by today at Kendall Dodge Chrysler Jeep Ram!