Used Car Spotlight: 2013 Dodge Dart SXT/Rallye

Update 6/26/2015: This vehicle has been sold. We still have plenty of great used Dodge vehicles available, however, and would be happy to help you find a car that's right for you. 
Are you in the market for a high quality, reliable used car? Are you ready to make a purchase, but unsure of how you will do so without breaking the bank?
Rest easy. You can find exactly what you want by visiting your local Dodge dealership in Miami.
Kendall Dodge Chrysler Jeep Ram is happy to feature this 2013 Dodge Dart SXT/Rallye in its "Used Car Spotlight," a series in which we help you find an affordable used car that offers extreme value. 
Although it can be difficult to find an affordable, reliable used car, you never have to concern yourself with this when you turn to the 2013 Dodge Dart SXT/Rallye. This particular vehicle is a steal, with only 11,723 miles, a simple and convenient automotive transmission, and plenty of interior space for all your passengers. 
For more than 100 years, Dodge has proven itself to be one of the most innovative automakers in the world. Furthermore, it has a long history of manufacturing vehicles that stand up to the test of time. 
With plenty of style, inside and out, combined with a variety of trim packages, late model Dodge Darts have everything a buyer is looking for. You get a lot of bang for your buck, without any of the concerns associated with a high mileage vehicle.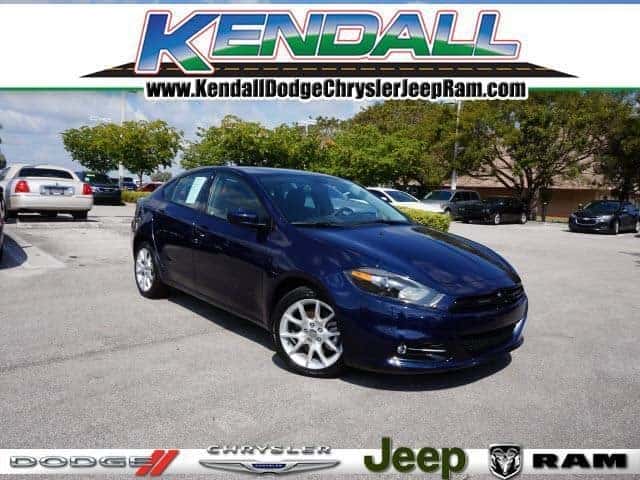 Not only that, but buying a gently-used car means you still get plenty of new features without the high cost associated with buying a brand new car. Finally, you still have time remaining on the Dart's original warranty from Dodge, meaning you have increased reliability over most used cars on the market today.
Continue to read below for even more information on what makes this pre-owned Dodge Dart a must buy for anybody in the market for a compact car.  
The 2013 Dodge Dart SXT/Rallye Offers Leading Gas Mileage 
The 2013 Dodge Dart SXT/Rallye doesn't come up short in terms of on the road performance. Thanks to its SXT roots, you can be rest assured that the 4 cylinder 2.0 Sequential-Port F.I. engine, mated with an easy-to-use automatic transmission, is more than enough to provide you with plenty of "get up and go."
But the Dart doesn't stop there. This vehicle offers gas mileage that is among the best in class, with 36 mpg highway and 25 mpg city. Its biggest competitor, the 2013 Chevy Cruze, only offers 22 mpg city and 35 mpg highway. 
If you are looking for a car with plenty of power and above average handling, without compromising gas mileage, the 2013 Dodge Dart SXT/Rallye won't let you down.
Full of Top of the Line Features
The 2013 Dart receives a lot of attention for its engine, comfortable ride, and gas mileage, but there are other benefits to be aware of. It doesn't matter if you are purchasing an SXT/Rallye or the base model, vehicles from this year are full of top of the line features.
How would you like to "pump your jams" as you make your way down the highway? The Dart has you covered with a four-speaker stereo system featuring an auxiliary input jack.
What about the exterior of your vehicle? Do you want to look good every time you get behind the wheel? The Dart SXT takes care of you, thanks to alloy wheels, LED tail and brake lights, solar tinted glass, and mirror color matching the body color.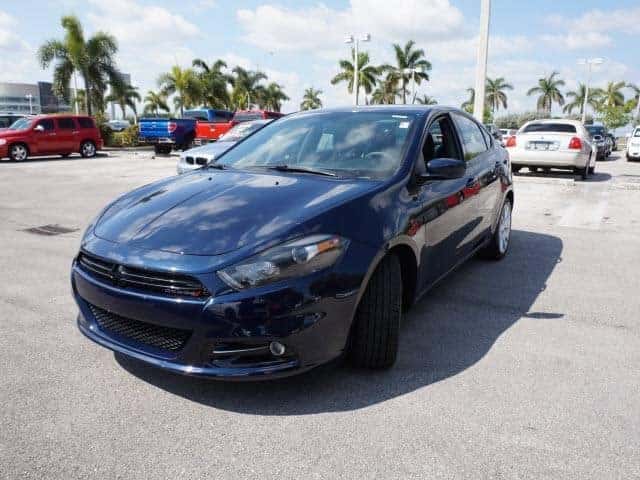 Think about how it would feel to ditch your old vehicle and get behind the wheel of a car with so many features. Wouldn't it be nice to actually enjoy the time you spend on the road? 
When your old car is no longer doing its job, it is time to make a change. Why not consider a pre-owned model like the Dart SXT/Rallye? 
Plenty of Seating and Cargo Space
Looking at the 2013 Dodge Dart SXT/Rallye from the outside, it is easy to believe the interior will be cramped. However, the numbers tell a different story.
This vehicle can seat five and has plenty of space for passengers, especially when compared to other vehicles in its class.  
The backseat is roomy enough to accommodate three adults. Just as important is the ability to easily install a rear-facing convertible seat, which is something many drivers have to do on a regular basis.
Is there enough room for your stuff? Well, this all depends on how much you are taking with you. With 13.1 cubic feet of cargo space, trunk space is above average for the class. If you find yourself going on a trip, the trunk is plenty large enough to swallow a couple full-size suitcases.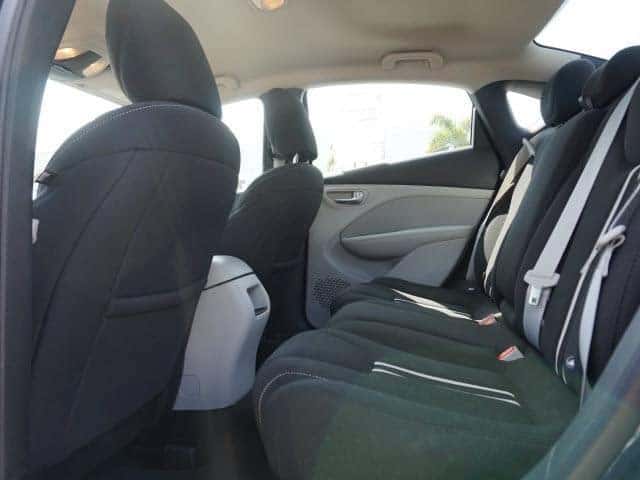 As an added bonus, the Dart's glovebox is among the largest in its class. Add this to an optional storage bin hidden under the front passenger seat, and you have even more space for all your belongings.
Priced to Sell
There are times when buying a used car doesn't make sense, such as when you can spend a little more to get a new vehicle.  If saving money is your primary goal, some models are better suited for you than others. The Dodge Dart is a great entry-level model that provides a great number of features without asking a premium price.
As you search for a reasonably priced 2013 Dodge Dart SXT/Rallye, don't be surprised at what you find. This particular vehicle has a retail price of $16,991, but has been knocked down to $14,591 – a savings of $2,400. 
When you combine the low price with the low mileage, this vehicle offers the best of both worlds. Think about it this way: you can find your way into this practically new compact with a monthly payment of roughly $200.
It can be difficult and time consuming to find a reliable used vehicle at a price you can afford. The 2013 Dodge Dart SXT/Rallye has everything you have been looking for, plus so much more.