Ram Rebel 1500 OTG Pickup Debuts At SEMA Show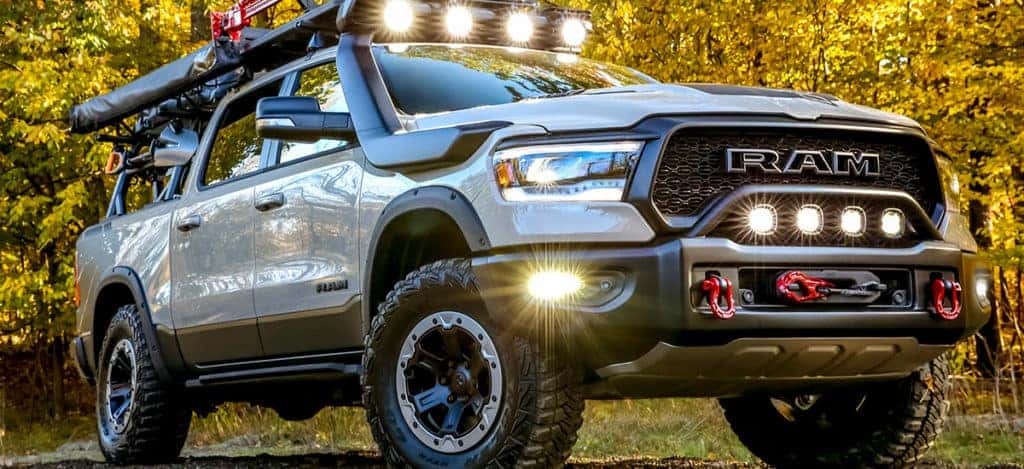 Photo credit: Ram
A breathtaking new concept Ram pickup has been unleashed to the world in the form of the Ram 1500 Rebel OTG. OTG stands for Off The Grid and will debut at the SEMA show in Las Vegas this week, open to the public from November 5th through the 8th, 2019. The Ram 1500 Rebel has always been built to allow drivers to confidently explore and enjoy roads less traveled. However, this latest concept is a super pickup truck that has everything an owner looking to explore the trails of off-road travel could want. Getting into an adventure will never be easier with the OTG Ram, as this might be the craftiest and off-road-ready Ram ever produced. 
Details of the Ram 1500 Rebel OTG
For starters, this pickup rides on huge 35-inch Goodyear MT/R Kevlar tires. This pickup is able to drive without worrying about gaining any tire punctures from nails or sharp objects like rocks. The impressive powertrain included is a new 2020 3.0-Liter V6 EcoDiesel that includes a remarkable 395 horsepower and 480 lb-ft of torque. Ready for long-distance travel with its massive 33-gallon fuel tank and an incredible range of over 1,000 miles. Fiat Chrysler Automobiles (FCA), the parent company of Ram, has partnered with Mopar, their aftermarket parts division, to make the Ram 1500 Rebel OTG stand out even further with added enhancements. LED lighting is included on both the front and rear bumpers to help drivers see any road perfectly. A two-inch lift kit was added as well as a snorkel to help the Ram 1500 Rebel OTG make way through deep waters. A front bumper-mounted winch allows owners to pull this massive pickup out from any jam it might be in. A collapsible roof tent is attached to the top of the bed rack and a split 60/40 tailgate allows for owners to access a gas-powered stove, sink with its own water system and a battery-powered color. This is a complete kitchen for owners to use while off the grid. Ram has thought of nearly everything with this unheard-of concept truck.
Present Day Ram Trucks Only Getting Better
Ram trucks are looking better than ever inside and out, plus the latest Ram 1500 also provides the best engine they've ever built for their flagship pickup truck. Ram takes its time to finalize any vehicle they produce. But their results speak volumes about what customers can expect. The 2020 Ram 1500 became the first full-size pickup to earn the Top Safety Pick from the Insurance Institute of Highway Safety (IIHS) and should the day come when this latest concept is made, buyers will know the great lengths Ram went through to produce this vehicle.
Drive New Ram Trucks With Our Assistance
Can't wait to start your journey in a new Ram Rebel? We can help at Kendall Dodge Chrysler Jeep Ram. Look no further than our professional team to drive new Ram trucks. We are ready for trade-ins and selling vehicles as well. We're ready to provide a solution for our customers and ensure a wonderful experience the whole way through.
Experiencing the troubles of a vehicle in need of repairs or regular maintenance? Allow us to get your vehicle back into shape today. With a simple service appointment, we can get started on making you a happy customer. Stop by now at Kendall Dodge Chrysler Jeep Ram!