What the Dodge Brand Provides With the Street Racing Technology Models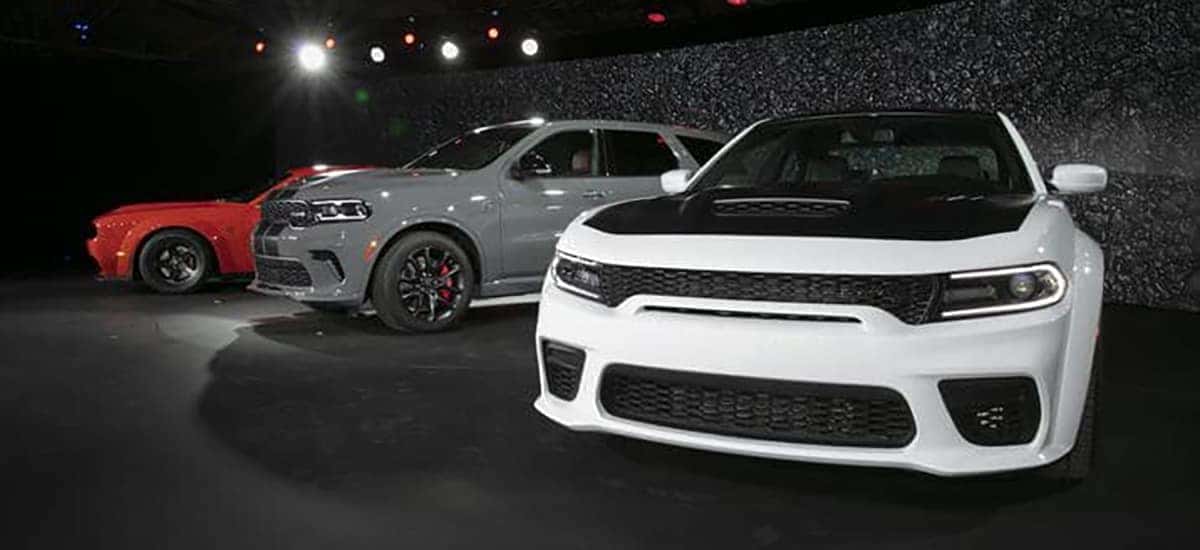 Photo credit: Dodge
Dodge is ready to defend its high-octane, high-performance against the competition. The most powerful and fastest Dodge muscle cars aren't only fast for Dodge, they are the fastest among all mass-production vehicles in the entire world. Thanks to a 6.2-Liter HEMI high-output V8 engine. The engine gains 797 horsepower and 707 lb-ft of torque. When we think of Dodge vehicles today, we think of the fastest and most powerful options known as SRT vehicles. Allow us to give our readers a brief history of the SRT and what owners will find if they opt for one this summer. 
Reach For the SRT Stars
The SRT "Street Racing Technology" carries the purpose of the Dodge brand. For those that want an intense and heart racing experience will find the Dodge SRT models a must-have. Originally, the SRT vehicles began as the Team Viper members of the Dodge Viper were attempting to make a new platform for vehicles. Team Viper partnered with the Plymouth Prowler. Drivers looking for a remarkable vehicle should look no further than what Dodge has mastered with its 2021 model year collection. The SRT club includes the 2021 Dodge Challenger coupe muscle car, 2021 Dodge Charger sedan muscle car, and the 2021 Dodge Durango SUV. The 2021 Dodge Charger SRT Hellcat Redeye, which is set above the Hellcat Widebody and is the prized option for the Charger lineup, starting at $80,090 MSRP (Plus destination fee). The 2021 Dodge Challenger SRT Hellcat Redeye begins at $72,295 MSRP (Plus destination fee). The entry point for the Dodge Challenger SRT is the Hellcat that begins at a low $59,000 MSRP (Plus destination fee). For more info on the Dodge SRT Hellcat Redeye, we've covered the immense and special speed offered by the Hellcat Redeye to customers. 
What Kind of Speed Can Owners Expect?
The 2021 Dodge Challenger Hellcat comes with an impressive array of options and a standard engine experience that rewards drivers with a 0-60 mph time of just 3.7 seconds. Remarkably, the 2021 Dodge Durango SRT Hellcat hits a 0 to 60 mph time in a mere 3.5 seconds! For those customers that want to test-drive a new Dodge vehicle, chat with us today about how we can make the process easier than expected. The prices are not for the faith of heart, but for those who are ready to make an investment towards something they will appreciate and feel secure with. The Dodge muscle family will always welcome new members! 
Come Join the Dodge Muscle Family Today!
We've opened our business again for customers to check out our Want to see what we have in stock? It's easy online to show off our new vehicle inventory, including the new 2021 Dodge Challenger and the new 2021 Dodge Charger. We can even appraise a trade-in or vehicle you want to sell online. We're all about helping our customers enjoy their shopping experience. We have a friendly and passionate sales team that will make your buying, leasing or selling needs.
At Kendall Dodge Chrysler Jeep Ram, we know what it takes to provide a worthwhile experience. We have a whole bunch for others to choose from. We can also help our customers out with any auto financing team they might need as well. Allow us the pleasure to help you today.Don't forget we have a trained service team that can help with an online service appointment to get started on all maintenance work and repairs. We know what it takes to provide a worthwhile experience. Allow us the pleasure to help you today!